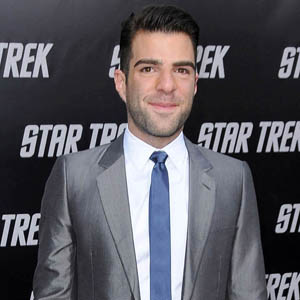 ---

Zachary Quinto has come out as gay.
The 34-year-old actor—who is best known for playing Spock in the 2009 movie reboot of Star Trek—spoke frankly about his sexuality in an interview, admitting he feels "more work" needs to be done about equality for homosexuals because he believes a lot of people are "terrified" of facing up to their feelings.
Discussing his performance in a stage version of Angels in America, a story set against the '80s AIDS epidemic, Zachary told New York Magazine: "As a gay man, it made me feel there's still so many things that need to be looked at and addressed.
"And, as a gay man, I look at that and say there's a hopelessness that surrounds, but as a human being I look at it and say, 'Why? Where's the disparity coming from?'
Despite previously being unwilling to discuss his sexuality, Zachary has played a series of gay characters, including the dead owner of a haunted house on series American Horror Story.
ADVERTISEMENT - CONTINUE READING BELOW
Writing on his blog, Zachary confirmed he felt he needed to come out to help contribute to "complete equality" following the suicide of gay teen Jamey Rodemeyer in September.
He said: "In light of Jamey's death—it became clear to me in an instant that living a gay life without publicly acknowledging it—is simply not enough to make any significant contribution to the immense work that lies ahead on the road to complete equality.
"Our society needs to recognise the unstoppable momentum toward unequivocal civil equality for every gay lesbian bisexual and transgendered citizen of this country."
Writing on twitter, he added: "i have spent the day in awe of this outpouring of support and resonance. we. are. in. this. together. NEVER FORGET! i am deeply moved. (sic)"