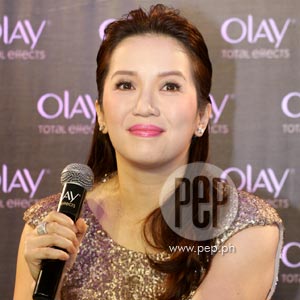 ---
Kris Aquino accepted the United Nations High Commissioner for Refugees' (UNHCR) proposal to be an honorary patron last Tuesday, October 18.
The actress-host's personal Twitter account reveals how delighted and privileged she is to serve the international humanitarian organization.
"Just finished UNHCR dinner," she tweeted on Tuesday night. "I accepted their appointment. I'm in excellent company... I am so looking forward to doing good work w/ UNHCR for the next 2 yrs."
Kris, President Benigno Aquino III's youngest sister, now shares the honorary patron role with Sudanese-British Luol Deng of NBA's (National Basketball Association) Chicago Bulls; Khaled Hosseini, author of the novel-turned-film The Kite Runner; and Chinese actress Yao Chen.
The Kapamilya star likewise mentioned that she, Luol Deng, and Khaled Hosseini are part of families who have been granted political asylum in the past. "We benefited greatly from the experience of living in freedom," Kris stated in her tweet.
The UNHCR appoints the honorary patron position to "prominent individuals from the world of arts, sciences, literature, entertainment, sport or other fields of public life who have expressed their desire to contribute to UNHCR'S efforts to raise awareness about aims, objectives and priorities of the organization and convey messages about its activities and to extend it public outreach."
The said UN post is a step to becoming the United Nations' Ambassador of Goodwill— a diplomatic task that Hollywood actress Angelina Jolie is known for.
Meanwhile, Malacañang has faith that Kris will "do her best to discharge her functions."
On Wednesday, October 20, Presidential Spokesperson Abigail Valte stated in a press briefing, "Si Ms. Kris Aquino naman po, when she puts her mind and her heart to something, we are confident that she can ably help them."