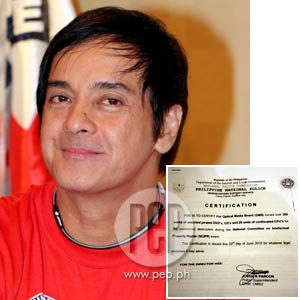 ---
Ronnie Ricketts, the chairman of the Optical Media Board (OMB), dismissed allegations of corruption in his government agency.
During the Red Cross Volunteer Run presscon last night, October 20, at the Imperial Palace Suites on Tomas Morato, Quezon City, Ronnie showed documents that he said would clear up the issue being thrown at him by an online blog.
"This came out first as a poison letter last year, lumabas ito sa DZMM. Nag-guest ako first week on March this year. It's the same topic rin," recalls Ronnie.
"Dinagdagan lang nila ng ingredients. Unbelievable! That's really unbelievable. Talagang paninira 'coz we're doing a great job at the OMB.
"Have you heard the news that the Philippines is number one na lumalaban against piracy in Asia?
"Tapos sa Manila, we're coordinating with the local government... Maraming nasasagasaan.
"May sinasabi sila na nawawala... Paano mawawala?
"We have certifications," Ronnie then showed documents and photos.
He added, "Na-shred na natin yung mga sinasabi nilang nawawala. Sumakay ako sa [tank].
"May mga press people na nagpunta so malinis ang operation, so nagtataka ako kung paano mangyayari.
"May ginawa kaming raid na walang media, sinurrender namin agad sa Immigration."
DEMOLITION JOBS. Ronnie says that the demolition jobs have been hounding him ever since he became the OMB chairman during the last quarter of 2009.
"Unang upo ko pa lang, three or four months pa lang, na-feel ko na may mga ayaw na sa akin... hanggang ngayon may death threats. Parang pattern at ni-recycle nila ang issue at dinagdagan lang ng palaman."
How does he deal with this issue?
"Mas nagtatrabaho ako ngayon, mas masipag," he emphasized.
He admitted that he no longer pays attention to these kinds of allegations.
"Honestly, nai-immune ako. When I came onboard as chairman, at first, alert ka...
"Hindi ko alam kung sino [gumagawa ng issue], pero may mga taong name-mention, but hindi ako ang character na sasabihin ko, 'ikaw 'yan.'"
ADVERTISEMENT - CONTINUE READING BELOW
How is his wife, Mariz, dealing with all these controversies?
"Nakaka-awa rin... You don't even see them unless there's an occasion.
"Kaya may asawa ka to be behind you in times na may ganitong pagsubok.
"I feel so blessed. She's a strong woman.
"Ang galing ng asawa ko, may positive feedback siya na binibigay."
PIRATED DISCS. The said blog named "OMB Exposed!" alleged that 127 boxes of pirated discs were removed from the OMB office last May 27 and they are supposedly missing.
Ronnie showed a document signed by Police Superintendent Joven Parcon indicating: "This is to certify that Optical Media Board (OMB) turned over 300 sacks of assorted pirated DVDs, CDs and 20 units of confiscated CPUs for the ceremonial destruction during the National Committee on Intellectual Property Rights (NCIPR) event.
"This certification is issued this 23rd day of June 2010 for whatever legal purposes it may serve."
According to the OMB chairman, the pirated materials were all destroyed.
He even showed photos taken during the June 30, 2011 event wherein a Special Action Force's V150 commando tank was used to run over the fake goods.
ARRESTED CHINESE NATIONALS. Ronnie also addressed another issue raised by the said website regarding the three Chinese nationals who were arrested during one of the raids of the OMB.
Ronnie presented another document stating that there were two Chinese nationals arrested and they have already been turned over to the Bureau of Immigration.
The said document is signed by Inspector Dennis Lorenzp Pinlac, Agent Rodel Telingban, and Agent Rocky Gonzales.
It states:
"This is to formally turn-over to your good office the two Chinese nationals that the Optical Media Board (OMB) apprehended in connection with the raid our office conducted in two warehouses located in Veterans Village, FTI, Taguig on 20 April 2010 at around 10 am.
"The OMB seized and confiscated three 40-footer container vans containing pirated optical media (blank DVDs without customs clearance and will be used for pirating videos and music materials). In implementing the raid, the OMB agents witnessed two Chinese nationals in charge of the warehouse where the said container vans and pirated optical media were stored...
ADVERTISEMENT - CONTINUE READING BELOW
"When the OMB agents requested them to show proof of their identities, the two Chinese nationals could not present any; they could not even present their passport.
"Hence, the OMB is turning over the two Chinese nationals [names withheld] to your good office for investigation for possible violation of immigration laws."
BASKETBALL ISSUE. The said blog also questioned the reportedly huge amount of money spent for the exhibition basketball games organized by the OMB.
The said blog alleges that every celebrity involved receives an honorarium of P9,000 to P10,000.
It also claims that the OMB spends P220,000 for every exhibition game.
But Ronnie said, "May COA [Commission on Audit] report that they can check. It's all justified, nandun lahat."
Do they spend P220,000 for every game?
"Exaggerated na lahat," he said simply.