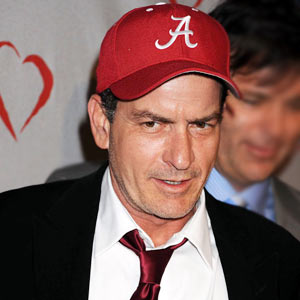 ---

Charlie Sheen is "extremely disappointed" with Two and a Half Men.
The 46-year-old actor—who spent seven years on the program before he was sacked earlier this year following erratic behavior—admitted his replacement Ashton Kutcher is "doing the best he can," but the comedian is not happy with how the show is going after a recent decline in viewing figures.
He told TMZ.com: "He's doing the best he can. I don't think the role is cursed, but I'm extremely disappointed with how they're handling what I left behind.
When asked about the show's recent decline in ratings, he said: "People aren't stupid, you know. Not all of them."
The first episode of the current series attracted around 27.8 million viewers, however the sitcom's recent ratings saw just over 14.85 million people tune in.
Following the current season's opening episode, Charlie said he was "impressed" and praised Ashton for his Two and a Half Men debut, describing his performance as "terrific."
He explained: "I think everybody won. I thought the show was really good. I thought [Ashton] was terrific.
"It was a little bizarre watching it, but yeah, for the most part I was really impressed with what they did."
SHARE THIS STORY Two And A Half Men" data-url="https://www.pep.ph/news/31599/charlie-sheen-extremely-disappointed-with-two-and-a-half-men" data-desc="Charlie on the show's recent decline in ratings: "People aren't stupid, you know. Not all of them."" data-image="https://contents.pep.ph/images2/news/a26305028.jpg"> Two And A Half Men" data-url="https://www.pep.ph/news/31599/charlie-sheen-extremely-disappointed-with-two-and-a-half-men" data-desc="Charlie on the show's recent decline in ratings: "People aren't stupid, you know. Not all of them."" data-image="https://contents.pep.ph/images2/news/a26305028.jpg"> Two And A Half Men" data-url="https://www.pep.ph/news/31599/charlie-sheen-extremely-disappointed-with-two-and-a-half-men" data-desc="Charlie on the show's recent decline in ratings: "People aren't stupid, you know. Not all of them."" data-image="https://contents.pep.ph/images2/news/a26305028.jpg">
SHARE THIS STORY
Two And A Half Men" data-url="https://www.pep.ph/news/31599/charlie-sheen-extremely-disappointed-with-two-and-a-half-men" data-desc="Charlie on the show's recent decline in ratings: "People aren't stupid, you know. Not all of them."" data-image="https://contents.pep.ph/images2/news/a26305028.jpg"> Two And A Half Men" data-url="https://www.pep.ph/news/31599/charlie-sheen-extremely-disappointed-with-two-and-a-half-men" data-desc="Charlie on the show's recent decline in ratings: "People aren't stupid, you know. Not all of them."" data-image="https://contents.pep.ph/images2/news/a26305028.jpg"> Two And A Half Men" data-url="https://www.pep.ph/news/31599/charlie-sheen-extremely-disappointed-with-two-and-a-half-men" data-desc="Charlie on the show's recent decline in ratings: "People aren't stupid, you know. Not all of them."" data-image="https://contents.pep.ph/images2/news/a26305028.jpg"> Two And A Half Men" data-url="https://www.pep.ph/news/31599/charlie-sheen-extremely-disappointed-with-two-and-a-half-men" data-desc="Charlie on the show's recent decline in ratings: "People aren't stupid, you know. Not all of them."" data-image="https://contents.pep.ph/images2/news/a26305028.jpg">