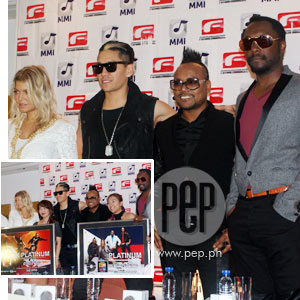 ---

"This will be the biggest, biggest concert not just for the year but ever!"
Local concert-producer and actor Marvin Agustin stated this before DJ Mo Twister introduced the multi-awarded hip-hop group Black Eyed Peas at the media junket prepared for them earlier, October 24, at the EDSA Shangri-La Hotel in Mandaluyong City.
The group is back in the country to stage another one-night concert tomorrow, October 25, at the SM Mall of Asia concert grounds in Pasay City.
Of course, Pinoy pride Apl.de.Ap, will.i.am, Taboo, and Fergie are set to perform their latest hits from their latest album The E.N.D. (The Energy Never Dies) and The Beginning.
These albums received a four-platinum award and a platinum award, respectively, from MCA Music (Philippines).
Apl.de.Ap also promised, "Of course, we're gonna see some Tagalog songs."
will.i.am also made sure that tomorrow night, the audience, "can expect to see a lot of energy, a lot of smiles."
"FASHIONOLOGY." Aside from their popular songs, the group will also make their audience dance with the visual effects that they prepared.
The lone lady in the group mentioned, "I think you're gonna see some nice "fashionology," it means that fashion meets technology."
She just hoped that it won't rain during their concert.
"I don't think it's gonna be raining, right?" she asked will.i.am. "You can't wear your fashionology when it's raining, when lightning struck you, it's gonna hurt. I don't think it's gonna rain."
"The beautiful marriage of fashion and technology together, a lot of our costumes light up, which is amazing.
"They're hard to put together. It's very special. So, you guys come out for that special event tomorrow."
Apl.de.Ap added, "There will be a lot of costume changes and laser lights.
ADVERTISEMENT - CONTINUE READING BELOW
"It's gonna be a good time so, bring your dancing shoes and we're gonna be jumping all night and have a good time."
Before the press conference ended, Apl.de.Ap mentioned that he'll be making a special announcement during the concert.
The singer is still not allowed to say anything about it, but he hinted, "I'll be announcing a new partnership at the show.
"Make sure you'll come so you'll know what it is."