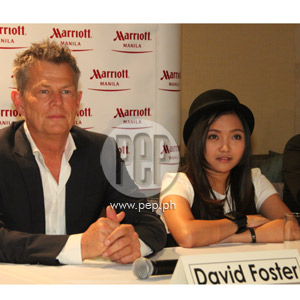 ---
David Foster denied reports claiming that his upcoming concert with Charice would be the last time that they would perform together.
The Grammy Award-winning record producer clarified that he can still work with Charice even though they are now part of different record labels.
David arrived in the Philippines last Sunday night, October 23, for the Manila leg of the David Foster And Friends concert that will take place at the Smart Araneta Coliseum this Tuesday, October 25.
The other singers who will perform in the concert include Ashanti, Philip Bailey, Russel Watson, and Michael Bolton.
"No, that kinda got misunderstood, probably 'coz of the translation. I've been with Warner Music for 26 years.
"September 30 is my last day with Warner and December 1st will be my first day with Universal Records," explained David during the concert's press conference held yesterday, October 24, at the Marriott Hotel, Resorts World Manila.
"Come December 1st, I won't be able to produce for Charice anymore because I can't take her with me. She's staying at Warner and I'm going to Universal [Records].
"But as for touring, I hope for many, many years we will always tour together [as long as] she has the time. She tours on her own.
"I love having her and she loves being with me and that's not going to change."
For her part, Charice says that her loyalty towards David will remain, regardless of which label he signs up with.
"I always tell David that I'm always here for him. He's always been there for me and whatever he wants to do with me, I'm in. We're a team."
She later added, "Ang paghihiwalay, hindi yun mangyayari kahit lilipat siya sa Universal [Records].
"Pag may show siya, pag kinausap naman niya ako, nandun ako. Pag kailangan ko siya, nandiyan naman siya.
ADVERTISEMENT - CONTINUE READING BELOW
"Nandiyan pa rin naman kami para sa isa't isa kasi he's my godfather."
ON LEA SALONGA. Yesterday, October 24, Dra. Vicki Belo posted on her Twitter account: "Leah Salonga, I'm having lunch with David Foster. He wants to get in touch with you."
During the press con, David explained why he was looking for the internationally-renowned singer.
"Her name just came up and we actually argued. I said, 'I thought she was part of Mulan the musical. And they said, 'No, she was part of Mulan [the Disney movie].'
"I remembered her voice and that she was from the Philippines. She is an amazing singer.
"I would love for her to come to the show and experience all of this 'coz she's a great singer."
Meanwhile, Dra. Vicki's fiancé, Hayden Kho, also made this revelation in his own Twitter account: "David foster and michael bolton were super impressed by Kyla! Represent!!!"
He later said that Michael Bolton described Kyla as "super amazing."
HITMAN RETURNS TO PINAS. This marks the second time that David has come to the Philippines.
When asked to comment about his return to the archipelago, he pointed out: "It's very exciting for me to be back here in the Philippines. It's a beautiful place. It's really great to be here.
"What we love about the Philippines besides Charice... We all love the fact that, more than any place in Asia, the way you love your music is almost a religious experience. It translates when you're on the stage. It was so shocking."
He later added, "There is no country that I've been to in my life where every member of the audience sings the lyrics of every song."
David also acknowledged that the Black Eyed Peas were having their own press conference at around the same time.
ADVERTISEMENT - CONTINUE READING BELOW
He admitted, "Will, Fergie, Taboo, and Apl [de Ap], are all friends of ours and we all hope to be partying tomorrow night after both of our shows. We're all going to get together for that."
On October 25, the David Foster and Friends concert will take place at the Smart Araneta Coliseum while the Black Eyed Peas will perform at the SM Mall of Asia concert grounds.