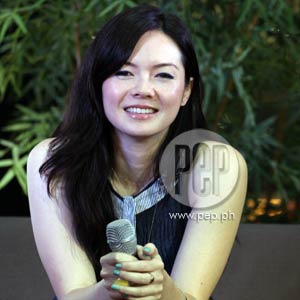 ---
Half-Irish, Half-Japanese Marie (pronounced Marie-ey) Digby has enthralled YouTube audiences since 2007. But she will always have a special place in her heart for her Filipino fanbase.


With her popularity on YouTube, does she see herself hosting a TV show in the near future?
"I dabble in it, I'm very open to it... but I need some more training before I jump into it," Marie says.


She says she would love to sing in Filipino, but needs to learn the language formally.
"I thought before, I'll be in the Philippines a few months, I'm definitely going to learn Tagalog. But everyone here speaks English. So if I really want to learn [Tagalog] I'll have to take lessons."


Marie has worked with some Filipino actors on her music and videos. Does she have plans of joining local showbiz?
"It's possible, but music is my priority. As long as acting doesn't take away from my music, I can see myself in it."
AWKWARD. When she was 13, a little-known hip-hop group called Portishead inspired her.
"I was going through a hard time. I was constantly being made fun of because of the way I looked. I was very awkward."
Portishead's experimental, trip hop, downtempo sound was therapeutic and played a crucial role in getting her out of her "awkward" stage.


It's hard to believe the tall beauty who hosted the Ms. Earth pageant was once awkward!
Locally, singer Kitchie Nadal inspires Marie.
"She caught my eye. I think she's just so out of the box. I love that she is very unapologetically unique and totally marches to her own drumbeat."
SAM. And now for the question everyone wants to ask: What's the real score between her and Sam Milby? Sam and Marie sang the album's carrier single, "Your Love."
ADVERTISEMENT - CONTINUE READING BELOW
Marie smiles and says, "We're celebrating our 25th anniversary..."


She explains, "We're good friends, we're very good friends. We started out dating last year but it's been over a year since..." she left the Philippines.


"We've been friends for a year and a half..." she adds.


She says working with him on a music video was fun.


"Your Love," written and composed by Marie Digby, tells the story of a first date, an actual first date.


Can Marie reveal the identity of the person who inspired the song?
She smiles her Mona Lisa smile, and says: "I never reveal the actual subjects."
FOOD. Marie has a special place in her heart for Filipino food.
Asked what her favorites are, she oohs and aahs... "I have so many! Adobo, pan de sal, ensaymada, buko pandan, chicken inasal..."


She says her favorite food then is still her favorite now. "Ensaymada from Pan de Manila. Or from Shangri-La Hotel. Or Diamond Hotel.
"Those are my three favorite ensaymadas!
"I heard that the pan de sal in Pampanga is really delicious, so I really wanna try that."
When she's not expressing a hankering for pan de sal, she talks about writing songs.


"I write all of my songs, so they're very personal to me. It's like journal-writing to me."


How does she write her songs?
"Sometimes I write a couple of words... I play a couple of chords on the piano and then if I'm lucky, the song will just come together."
Does she have unfinished songs?
"Yes, " she says and even has a name for them. "The homeless ones."


JAMES. And the second most popular question everyone wants to ask her: Is she dating basketball player James Yap?
"We've never dated, but we're friends! We hang out from time to time," she says.
ADVERTISEMENT - CONTINUE READING BELOW


She also explains why "I Do," her duet with Jericho Rosales, is her favorite song in her album.
"It's about true commitment."


ADVICE. Marie gives this advice to people who want to succeed in music:
"Perform, perform, perform! Whether it's at your church, your school, or at the county fair. Sing so that other people can hear you. You can't just sing in your bedroom. But if you sing in your bedroom, make sure you post your video on YouTube so the world can find you."


Enjoy Marie Digby's lovely vocals in Your Love, her first Philippine-released album produced by Star Records and MCA Music. It is available in record stores nationwide or by digital download.