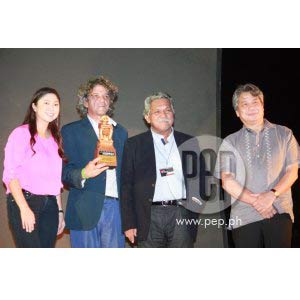 ---
The awards ceremony for the 13th Cinemanila International Film Festival was held last night, November 17, at Bonifacio High Street, Taguig City.
Filipino filmmakers ruled the competition, winning citations in categories where they competed against foreign filmmakers.
Internationally renowned director Lav Diaz won the Grand Jury Prize in the Main Competition for his six-hour film Siglo ng Pagluluwal.
U.S.-based Filipino director Benito Bautista also won a special mention in the SEA Films in Competition category for his film Boundary.
Filipino directors also took home prizes in other categories like Digital Lokal and Young Cinema Shorts in Competition.
CINEMANILA. The Cinemanila International Film Festival is an annual event that is being promoted as the local version of the main film festivals abroad, including Cannes, Pusan, and Rotterdam.
It invites foreign and local filmmakers to submit films for exhibition and competition.
Most of the time, films already in competition in other foreign festivals also join Cinemanila.
Founded by director Tikoy Aguiluz in 1999, the Cinemanila International Film Festival aims to bring the best cinema of the world to the Filipino people.
This year, the festival opened on November 11, 2011 and ended last night.
Screenings were held at Market! Market! in Taguig City.
Cinemanila assembled a credible set of judges for the competition.
For the International Competition, Filipino actor Yul Servo and Iranian filmmaker Firouzeh Khosrovani were the judges.
Cinema One channel head Ronald Arguelles and Jeonju International Film Festival director Min Byung-Lock were the judges for the SEA Films in Competition category.
For Young Cinema, the judges were Filipino cinematograher Carlo Mendoza, American film/video curator Joel Shepard, and Guam-based director Kel Muña.
Lastly, the judges for Digital Lokal were Filipino director Ato Bautista, Korean actress Kim Kkot-Bi, and film professor Rolando Tolentino.
PROGRAM PROPER. Last night's awards ceremony brought together Filipino and foreign filmmakers.
ADVERTISEMENT - CONTINUE READING BELOW
Present at the event were Cinemanila founder Tikoy Aguiluz, Taguig City Mayor Lani Cayetano, FDCP head Briccio Santos, several of the jury members, and filmmakers from here and abroad.
Also in attendance were artists who appeared in the movies in competition, including Ronnie Lazaro, Raymond Bagatsing, Yul Servo, and Gary Lim.
Maxene Magalona and Ketchup Eusebio were the night's hosts.
Winners brought home a trophy shaped like a Bulol or Ifugao rice god, as well as cash prizes from the FDCP.
YOUNG CINEMA. The first category was the Young Cinema - Shorts in Competition. This year, only films from the Philippines were included in this category.
Young director Carlo Obispo took home the Ishmael Bernal Award for Most Outstanding Young Filipino Filmmaker award for his film 123, which also won Best Short Film.
Special Mention went to Victor Villanueva for his short film Saranghae My Tutor.
Victor also won a special mention for his film My Paranormal Romance in the recent Cinema One Originals film festival.
DIGITAL LOKAL. The second category was Digital Lokal, a competition for Filipino films shot in digital.
Best Director went to Mes De Guzman for his film Sa Kanto ng Ulap at Lupa.
The movie was part of the recent Cinema One Original Film Festival where it garnered one special mention for its young cast.
Sa Kanto ng Ulap at Lupa also won the Lino Grand Prize.
Grand Jury Prize went to the film Sakay sa Hangin by Regiben Romana.
In his acceptance speech, Regiben offered his award to the country's indigenous groups.
SEA FILMS IN COMPETITION. Five films were nominated in the SEA (South East Asia ) Films in Competition Category, including features from Singapore, Thailand, Indonesia, Cambodia, and the Philippines.
French-Cambodian director Davy Chou who won the Best Southeast Asian Film award for the SEA Films in Competition category, for his film Golden Slumbers.
ADVERTISEMENT - CONTINUE READING BELOW
Davy was not able to attend the event.
Winners of special mention citations included Indonesian Kamila Andini for the film The Mirror Never Lies, and Filipino director Benito Bautista for Boundary.
Kamila was not able to attend the awards night.
Benito, on the other hand, received the award with his cast: Ronnie Lazaro, Raymond Bagatsing, and Edwin Nombre.
In his acceptance speech, Benito said the award motivates him to make more films.
MAIN COMPETITION. In the Main International Competition, seven films were nominated. They included films from Italy, Romania, Turkey, South Korea, China, Australia, and the Philippines.
Grand Jury Prize went to Filipino director Lav Diaz for his six-hour film Siglo ng Pagluluwal.
Lav was not able to attend, and it was fellow filmmaker Raya Martin who received the award for him.
Turkish director Nuri Bilge Ceylan won the Best Director award in the Main Competition, for his film Once Upon a Time in Anatolia. He was not present to receive his trophy.
Italian director Italo Spinelli won the Lino Brocka Grand Prize in the Main Competition for his film Gangor. In his acceptance speech, he said he was speechless and happy at the same time.
Two surprise awards were also given: Best Actress award for Yun Jeong-Hie for her role in the Korean film Poetry, directed by Lee Chang-Dong; and Best Actor for George Pistereanu for his role in the Romanian film If I Want to Whistle, I Whistle, directed by Florin Serban.
The night ended with a performance by the Aqua Drummers Unlimited, and a screening of the winning films 123 and Sa Kanto ng Ulap at Lupa.
LIST OF WINNERS. Here is the complete list of winners:
Main Competition
Best Actress - Yun Jeong-Hie for her role in Poetry by Lee Chang-Dong (South Korea)
Best Actor - George Pistereanu for his role in If I Want to Whistle, I Whistle by Florin Serban (Romania)
ADVERTISEMENT - CONTINUE READING BELOW
Best Director - Nuri Bilge Veylan for Once Upon A Time in Anatolia (Turkey)
Grand Jury Prize - Siglo ng Pagluluwal by Lav Diaz (Philippines)
Lino Brocka Grand Prize - Gangor by Italo Spinelli (Italy)
Digital Lokal
Best Director - Mes De Guzman for Sa Kanto ng Ulap at Lupa
Grand Jury Prize - Sakay sa Hangin by Regiben Romana
Lino Grand Prize - Sa Kanto ng Ulap at Lupa by Mes de Guzman
SEA Films in Competition
Best Southeast Asian Film - Golden Slumbers by Davy Chou (Cambodia)
Special Mention - Boundary by Benito Bautista (Philippines) and The Mirror Never Lies by Kamila Andini (Indonesia)
Young Cinema
Best Short Film - 123 by Carlo Obispo
Ishmael Bernal Award for Most Outstanding Young Filipino Filmmaker - Carlo Obispo for 123
Special Mention - Saranghae My Tutor by Victor Villanueva