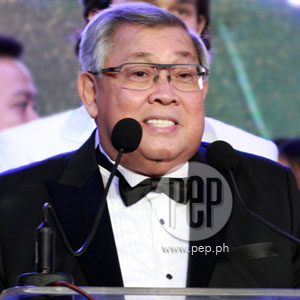 ---
Following the optimistic address of TV5 chairman Manuel "Manny" V. Pangilinan (CLICK HERE to read related article), GMA-7's Atty. Felipe L. Gozon also took the stage at the 22nd Philippine Ad Congress.
It was a rare moment on November 18 when the leaders of the country's largest television networks shared one stage.
Joining Gozon and Pangilinan at the event was ABS-CBN's Eugenio "Gabby" Lopez III, who also gave a speech about the "Future of Media."
NETWORK WAR. Aside from giving a 15-minute speech, each of the network leaders spent extra time on stage for an interview with the country's top news anchors.
For Atty. Gozon, it was ABS-CBN's Korina Sanchez who did the task.
The exchange was light and casual, and elicited much laughter and ribbing from the crowd.
Of course, they exchanged pointed witticisms about the longstanding dispute between GMA-7 and ABS-CBN.
One bold query from the Rated K host was: "Who is the real number one?"
To which the Kapuso bigwig answered, "As far as we are concerned, GMA is number one."
While he refused to answer questions regarding concrete plans of the network for the coming year, Atty. Gozon said he was more than willing to clarify the issue on "talent pirating."
"Very honestly and with all sincerity, we do not believe in piracy," he said with conviction.
"And I am very proud to say that Channel 7 became number one, even before when the ratings service was limited to Mega Manila, without pirating any talents or program from any network.
"And up to now, we are trying to maintain that policy."
MEDIUM TO BEAT. In his speech, he underscored the strengths of TV as a medium.
Despite the growing popularity of the Internet, Atty. Gozon believes that television "will still be the medium to beat for many years to come."
ADVERTISEMENT - CONTINUE READING BELOW
Here is the full transcript of Atty. Gozon's speech at the Ad Congress:
"Television today has reached its defining moment. And because of fast-evolving digital technology, the possibilities are becoming endless.
"It is, therefore, important to ask—where is television headed?
"To start with, let me state the following fairly recent developments, which I think are very relevant to the future of TV.
"First, content made for television can now be seen in at least three screens—the TV itself, the computer, and mobile devices like cellphones and tablets. It has also broken new ground in social networking so that digital citizens of the world can traverse all media seamlessly.
"Second, technology companies like Google and Apple recognize that the video-viewing experience is at its best on the larger television screen. Thus, the aggressive development of set-top boxes which allow streaming and downloading of video content. Even the television set has morphed into today's connected or hybrid TV, a convergence of computer and television technologies.
"Third, as the world wide web is bursting at the seams with news, entertainment, information, and everything else in between, social networking sites Facebook and Twitter, and search engines Google and Yahoo have become billion-dollar game-changers that simply blow our minds.
"'Social TV' is one of today's buzzwords. Instead of sitting back in their couches and simply watching TV shows, some viewers now 'check in' and let their friends know what they are watching real time. TV companion applications like Get Glue and Miso also allow viewers to comment on shows in real time, look up any information about the show, and even take a closer look at products being advertised.
"Fourth, now more than ever, digital technology has given consumers more opportunity to control their time. The viewer now can have a say when and where he wants to watch shows that matter to him. Primetime has become a moveable feast.
ADVERTISEMENT - CONTINUE READING BELOW
"What then is the future of TV relative to advertising?
"Seventeen years ago, then CEO of Procter and Gamble, Edwin Artzt, challenged the advertising industry and I believe the same challenge hits the spot even today.
"He said, 'The advertising business may be heading for trouble—or it may be heading for a new age of glory. Believe it or not, the direction—up or down—is in our hands. The reason: Our most important advertising medium—television—is about to change big time, and we have one whale of a stake in these changes.'
"I strongly believe that together, we must continue to address the challenge, particularly at this time when due to the economic problems in the United States and Europe, the volume of ad spend has gone down.
"Luckily however, in the Philippines, the entertainment and media market including television may be in for modest growth.
"The Philippines has been counted among the more dynamic markets in Southeast Asia where demand for TV remains high with share in the total ad spend averaging 72% from 2006 to 2010 according to the Nielsen establishment survey.
"TV remains the cheapest form of entertainment for about 94% of TV households.
"Things are looking bright in the Philippines and perhaps, different. For example, programmers and producers are now more and more into branded content especially in entertainment. The level of brand integration and product intrusions in programs continues to increase as consumer behavior evolves.
"That is why it is important that we in television work hand in hand with you, our friends from the advertising industry, so we can truly head for an age of glory.
"And what direction will television likely take in a digital universe?
"Let me present my big seven fearless forecasts.
"I believe that television will still be the medium to beat for many years to come. It will continue to provide superior entertainment and remain the medium for the vast majority of Filipinos. Yes, all of us gathered here today probably agree with me. But to be specific about it, I firmly believe that first and foremost, TV's continued success will be driven by quality content.
ADVERTISEMENT - CONTINUE READING BELOW
"Jimmy Lai, Chairman and Founder of Next Media, one of Asia's leading Chinese language publishers who now has his eyes on TV, maintains that in media, you don't have to be different, you just have to be good. But for the TV business, and I fully agree with him—'it is not just content is king, quality content is king.'
"This is the reason why quality content is part of our daily drill, be it in our entertainment or news and public affairs programs.
"I always tell my team that when you wake up each morning, take a minute to ask yourself, 'What can I do better today than yesterday?' And do not stop at asking 'Why?' Also ask 'Why not?'
"These simple and very basic exercises brought forth trailblazing programs like Encantadia and Mulawin in the past, now Amaya and Munting Heredera, among others.
"This self-examination, I should say, also brought forth Ambulansyang de Paa of I-Witness which earned the Network its second Peabody Award. No other network in the country has won what they call the Oscar Award of broadcasting-and twice at that.
"This is also why we launched GMA News TV, now the number one news channel in the country.
"Next, the medium of television will remain critical to brand loyalty. With TV content now running across three screens and multiple platforms, including web and mobile, no other medium can be as ubiquitous. If for any given month, the products or brands that you push need to reach a certain number of people, no medium can do it better than television which reaches more than 90% of target audience
"Third, just as we submit that the future is digital, we hasten to add that digital is also going mobile. Estimates show that eleven million Filipinos lead digital lives as 36% of our people between ages 16 to 60 access the internet daily. This is not only through stationary PC units but through tablets, cellphones and other mobile gadgets. This shows that even if the visual platform is digital, TV content still remains relevant.
ADVERTISEMENT - CONTINUE READING BELOW
"Fourth, consumers' tastes and lifestyles will continue to change through television. When consumers are given an array of choices; choices that give them both freedom and control, their lifestyles will inevitably change.
"Fifth, television will become even more interactive, embracing the consumer not only as a spectator but as a decision-maker in programming and other aspects of television work. The new mission of media in the digital age is to engage viewers and make them active participants in, for instance, the resolution of a problem or even the outcome of a television series. Loyal viewers can now vote for, call in, or tweet their desired endings of telenovelas or maybe even suggest changes in clothes or make-up of lead characters.
"Digital crowd-sourcing, as they call it in the news genre, also gives the viewers a certain level of participative power. This is evidenced by the success of GMA's YouScoop which has, by the way, given us not a few exclusives and helped us deliver the news as it happens when it happens.
"Sixth, demand for television will remain high, as driven by the economic status of the majority of the population. In a country like the Philippines where television ownership increases every year whatever the GDP is, what is really worth watching is the change in how the mass audience consumes mass media.
"According to Nielsen, from 2008 to 2010, the proportion of homes with TV sets increased by 4% nationwide. TV consumption, in fact, was stable in the country at 98% in 2011 from 97% in 2007 according to Steve Garton, global head of media research for Synovate.
"And seventh, the future of TV may still prove to be a source of human connection and human communication. While we recognize the popularity of mobile devices that enable viewers to consume TV content anytime, anywhere, by culture, Filipino families still love to get together.
ADVERTISEMENT - CONTINUE READING BELOW
"Like Pacquiao, who is still the best pound for pound boxer in the world at age 32, TV is at a crossroads. Pacquiao knows he has a few more fighting years to go so he has to reinvent himself-as a politician, sports promoter and businessman.
"Television will be doing the same in order to survive and thrive in a world that is obviously marching to the beat of the technology drum.
"To change the game, we who are in the business of television, must turn these challenges into opportunities.
"At GMA Network, we will continue to harness new technologies not only to keep consumers watching our programs but have them stay with us through commercials in between.
"We will continue listening to consumer comments and suggestions and be more creative in integrating dynamic feedback systems in our programs.
"We will delve deeper into the consumer psyche to better understand viewers' evolving needs and desires.
"We will continue offering novel ideas and concepts to raise the bar not only of entertainment programming but also in delivering our promise of Serbisyong Totoo to our viewers.
"Empowerment through information will continue to be at the forefront of our goals as a television network.
"Simply put, we, in television, have a lot of work to do.
"We know fully well that when consumers are presented with endless possibilities in this digital age, they will demand nothing less than the best.
"As Albert Einstein once said, "The significant problems we face cannot be solved by the same level of thinking that created them." The trick, then is to be a step ahead and gear up for the possible changes that technology will bring.
"This is the only way we can push our respective bottomlines and still be ahead."