Former actress Cynthia Patag is indignant that the tweets insulting presumptive president Rodrigo Duterte from a fake account attributed to her were re-posted by netizens.
In her official Facebook page this Friday morning, May 13, Cynthia clarifies that the Twitter account, bearing her name and photo, is not hers.
Part of Cynthia's post said, "Last night, two vicious, malicious, low lives, posted my Cynthia J, Patag photo next to several crass insults against Pres. Elect Duterte, which they attributed to me.
"It was a blatantly fake account, posted on 'MAYOR DUTERTE FOR PRESIDENT' page."
She continued, "I don't talk, speak, nor write like a vociferous semi-literate, unlike those two malevolent savages, who posted the fraudulent hate posts. Yet the haters went into a frenzy, pilloried me mercilessly.
"Duterte has already ordered his frothing hyenas to STOP THE HATE on social media. Wala rin."
"I'll hold that 'I-support-you, President Elect Duterte' post for awhile."
The fake account includes posts supporting Liberal Party standard-bearer Mar Roxas and making fun of Duterte's facial features.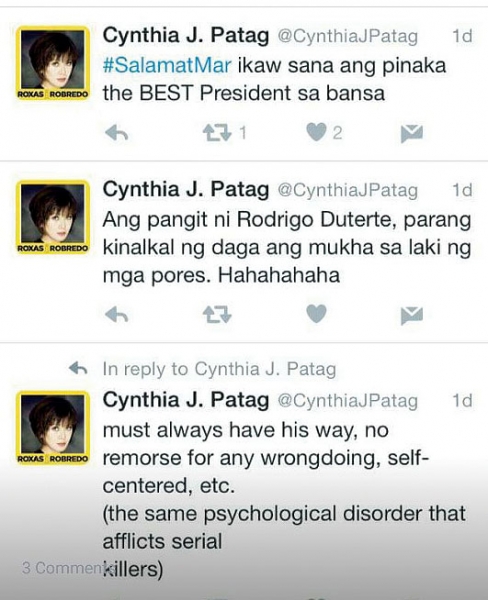 As of this writing, the said fake account (@CynthiaJPatag) still exists, and posts are mostly anti-Duterte.