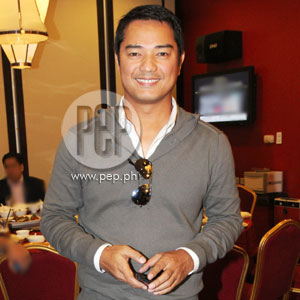 ---
The year is starting out strong for Ariel Rivera.
At the press conference held at the Maxims Tower, Resort's World Manila yesterday, January 5, the actor/singer/songwriter was officially announced as an addition to the cast of The Sound of Music.
He will alternate with Audie Gemora and Jon Joven in giving life and music to the character of the formidable Captain Von Trapp.
The international musical, a Richard Rodgers and Oscar Hammerstein II original popularized by its film rendition starring Julie Andrews and Christopher Plummer, was brought to the Philippines late last year.
With an all-Filipino cast of theater actors, including thespians Cris Villonco and Joanna Ampil who alternately play the protagonist Maria, The Sound of Music production has been enthralling a proud Filipino audience since it began its run in October 2011.
"I'm excited! ... This is something I'm excited about because, like I said, since I was a teenager and that was a long time ago, I've been watching The Sound of Music.
"So now to be Captain Von Trapp... I'm really, really excited," says Ariel who admits to feeling half-jittery, half-elated about the 20 runs he will do as Captain Von Trapp.
The show will last until February 12.
At the press conference proper, Ariel narrated how he found out about The Sound of Music production from his friend, esteemed theater actress Isay Alvarez, around November of last year.
By that time, it was too late to audition.
Thankfully, the production staged at Resort World Manila's Newport Performing Arts Theater will be extended beyond its end run originally set for December 2011.
It was Joanna Ampil who had a hand in including Ariel in the list of potential new additions to the cast.
After his audition, he got the part.
Ariel mentions of his initial apprehension in taking on the role. Theater, according to him, is "a different animal altogether."
ADVERTISEMENT - CONTINUE READING BELOW
He likewise tells of his preparation: "I'll be relying on Jon and Audie.
"I've been watching their videos to see how they've been doing the blocking, especially how they say their words.
"May accent kasi dito."
"It will be difficult for me because doing theater is not something that I normally do."
In a brief interview, the 45-year-old dark debonair singer states that The Sound of Music is the third theater production he will be included in.
The first one was 1896, which PETA (Philippine Educational Theatre Association) staged in 1995.
The second was Rama Sita, produced in 1999, where Ariel was cast as the iconic Indian character, Rama. Thespian Chiqui Pineda portrayed the role of Sita.
After 12 years, Ariel returns to theater.
"I really select the project that I want to do.
"It's got to be something I'm passionate about, and the two previous ones I did, I was passionate about it— 1896 and Ramasita.
"This one, as I have explained, is actually a dream of mine, now that I look back.
"I can't say if I'm going to do it again.... later on in the future, I may or I may not.
"But if the project is [something] I really love or enjoy doing, then I will do."
Ariel has experienced acting in television shows, films, and theater. He believes that it is acting in theater that is truly challenging.
"Mahirap ang stage. It's a different discipline.
"Dito talaga hindi ka puwede magpuyat kasi ... magkaka-sipon ka, problema na. Sa taping kahit may sakit ka, natutuloy namin yung taping.
"Dito walang take two. Magkamali ka sa lyrics, sumabit ka, mali-mali talaga lahat.
"Everybody relies on you on stage... There's more pressure, definitely, because it's live."
2012 PROJECTS. Ariel was last seen in the ABS-CBN afternoon soap remake of Mula sa Puso, which aired from March to August last year.
ADVERTISEMENT - CONTINUE READING BELOW
The actor took on the role of Don Fernando Pereira, the father of the female protagonist (Via) played by Lauren Young.
This year, Ariel will star in another Kapamilya teleserye, E-boy, in which he gets to work with award-winning child actor Bugoy Cariño.
Commenting on how his career is kicking off at the beginning of the year, the seasoned actor is hopeful that projects will just keep coming.
"I'm a pretty optimistic person.
"Right now I have a new show with ABS-CBN. It's called E-boy.
"It will be, I think, end of January, if not, first week of February when we start.
"And now this, to be blessed with two dream shows, for me...
"Yung [sa] E-boy, ako yung main role. Not E-boy the little boy, but I'm the father of E-boy."
In the soap, it is Ariel's character, an engineer, who will create a robot which he will later treat as his own son.
He describes the soap as "a cross between Pinocchio and Astroboy."
He says, "I'm hoping it's a good sign for me, [that] 2012 would be a good year for me.
"God has been good to me and my wife, with these projects.
"Hopefully, it continues throughout the whole year."
FAMILY FIRST. It is not only Ariel's career that keeps his schedule frenzied.
On top of everything, he maintains an active role as husband and father.
He intimates that it is not an easy task to juggle family life and his showbiz career.
How does he cope?
"I have a great wife, that's the primary thing.
"Since my firstborn, we've never had a yaya. Kami pa rin ang hatid-sundo.
"Like right now, we're taping E-boy Mondays, Wednesdays, and Fridays. We get home at 4 a.m., but that doesn't mean we neglect our responsibility.
ADVERTISEMENT - CONTINUE READING BELOW
"As soon as I get home or as soon as Gelli gets home, we bring the kids to school, kahit walang tulog.
"Our work revolves around our family, not the other way around...
"That's one of the things I have to consider when it comes to accepting jobs—will it work around our schedule?
"I don't want to be preachy [but] I think that's the only way you can make a relationship work.
"Your priority's got to be your family, and then work."
Asked how challenging the multi-tasking is, Ariel replies, "It's difficult to find a job that will work around your [family life], yes it is!
"But it's not difficult in terms of family kasi nga yun yung priority mo.
"It's hard finding a job kasi sasabihin mo lagi, 'O, hanggang dito [lang] kasi I have my kids.'
"It's difficult that way but it's really easy when you have the kind of wife I have."
Ariel and Gelli are parents of two boys who are in Grade 5 and 6, respectively, at the Ateneo de Manila University.
Their eldest will turn 13 years old by the end of the month—their "first teenage boy."
Their youngest is 11.
Inquired about how his wife is doing, Ariel says "She's doing very well.
"She's very happy with TV5 with her new show.
"She has another show coming up and she's very happy.
"We're both very happy."
He beams, "It's prioritizing your family before anything else, before work, before hobbies, before anything."
The Sound of Music's extended playdate likewise introduces new cast members who will alternate with the first batch of actors: Leo Martinez (as Max Detweiller), Shiela Valderrama (as Baroness Elsa Schraeder)...
Michaela Bradshaw (as Liesl), Fred Lo (as Rolf), Jeremy Domingo (as Herr Zeller), Katie Bradshaw (as Gretl).
ADVERTISEMENT - CONTINUE READING BELOW
Resorts World Manila Presents: The Sound of Music will run until February 12, 2012.
Showdates are Friday 8:00 p.m.; Saturday and Sunday 2:00 p.m. and 7:00 p.m.