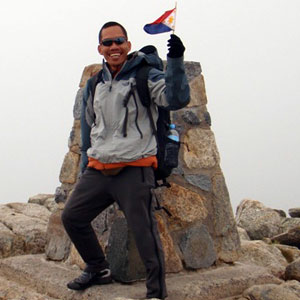 ---
Filipino mountain climber Romi Garduce officially set foot atop Mt. Vinson Massif in the Antarctic Region on January 5 at 6:45 p.m., Antarctica time (January 6, 5:45 a.m., Philippine time).
Thus, Romi officially completes his "Seven Summit" quest.
It has been 10 years since he began the quest.
In sum, Romi has conquered "eight of the seven highest mountains" in seven continents:
Mt. Kilimanjaro in Africa (September 2002); Mt. Aconcagua in Argentina (January 2005); Mt. Everest in Nepal (May 2006);
Mt. Elbrus in Russia (August 2007); Mt. McKinley or Denali Peak in North America (June 2008);
Mt. Kosciuszko in Australia (December 2008); Mt. Carstensz Pyramid in Indonesia (July 2011), and his most recent climb.
With this, the Philippines will finally put on record a historic feat in the elite adventure sport of mountaineering.
According to a recent blogpost by mountain climbing and trekking guide service Mountain Madness, Romi's team summitted the 16,067-foot alpine mountain lying in the Sentinel Range of the Ellsworth Mountains amid a cold -26 degree Celsius weather.
He was accompanied by fellow U.P. mountaineer Levi Nayahangan.
Romi's team left for Nepal last December 23, and flew to Antartica last December 29.
The quest was supported by GMA Network, where Romi is one of the pioneer hosts of the award-winning wildlife and environmental program Born To Be Wild.