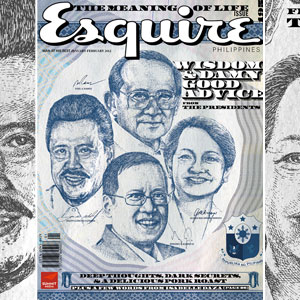 ---
"What— if any—is the meaning of life?"
In its "Wisdom" issue, Esquire Magazine turns to the four living Filipino leaders who have held the highest seat of authority in the country.
In its bid to seek some "darn good advice," the culture-and-lifestyle men's title conducts interviews with current President Benigno S. Aquino III, and former Presidents Fidel V. Ramos, Joseph Ejercito Estrada, and Gloria Macapagal-Arroyo.
The article, "The Meaning of Life," contains random thoughts, truths, life lessons, and pieces of advice that reveal the four personalities in their candid moments.
In a series of statements, the chief executives reveal details of their political ideals, anecdotes that occurred at the time of their respective mandates, and aphorisms they subscribe to, as well those that they oppose.
In his magazine spread, PNoy tells bits of wisdom that his father, the late Senator Benigno Aquino, Jr., passed on to him, plus ideas from two other political figures that inspire him.
ADVERTISEMENT - CONTINUE READING BELOW
He confesses to "the cost of becoming President," but also shares the best part about being one.
Erap, in the magazine's section about him, talks about why exactly he changed his last name from Ejercito to Estrada, his faith and how he talks to his God, and his journey from mayor of a small town to President of a country.
FVR, meanwhile, proves to be a multi-tasker, and someone not to compete with in a spelling-bee contest.
He also reveals who his first and last love is, as well as "what the most important things in life are."
The fourth President, GMA, engages Esquire in a brief recap of her term—from the time she assumed the presidency amidst a nation in crisis, to her efforts to reform the economy, and to the "unpopular choices" she says she had to make for the country.
The Philippines' second woman president, who has withstood all attempts to unseat her from Malacañang, reveals how she handles detractors and "demagoguery," as well as criticisms both "constructive" and "malicious."
ADVERTISEMENT - CONTINUE READING BELOW
Which President was an avid Hardy Boys reader?
Which President wakes up at 3:30 a.m. to exercise?
Which President looks up to Andres Bonifacio?
Which one thinks he can beat Jose Rizal in winning over a girl's heart?
Read and learn about them in Esquire's January-February 2012 issue.
Esquire is the latest publication of Summit Media, which also publishes YES! Magazine, the print affiliate of PEP.ph (Philippine Entertainment Portal).