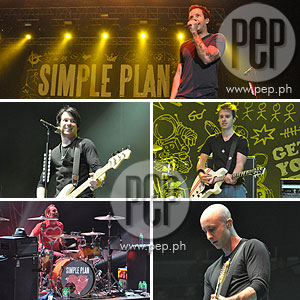 ---
"We missed you! We want tonight to be a crazy party!"
This was how vocalist Pierre Bouvier started to rock Manila.
The fans shrieked with joy last night, January 12, at the Smart Araneta Coliseum, as Canadian pop-punk band Simple Plan kicked off their Get Your Heart On! concert.
This is the band's third time in the country.
The band visited Manila first in March 2005, performing with Avril Lavigne.
Leaving their local fans wanting more, they came back in August 2008, this time with New Found Glory and Jamie Scott.
JUMP, SCREAM, & SING YOUR LUNGS OUT. Before the band's much-awaited performance, Kamikazee served as the front act of the Canadian pop punk band.
Kamikazee members Jay Contreras, Jomal Linao, Led Tuyay, Puto Astete, and Bords Burdeos sent the crowd cheering with their brand of rock music.
The Pinoy rock band sang their hit singles "Martyr Nyebera," "Narda," "Halik," "Ambisyoso," and "Tsinelas."
Shortly after, and with the audience revved up, the members of Simple Plan appeared on stage. They were met by loud cheers.
The crowd went wild and started jumping when the band performed "Shut Up!"—its hit single from its second album, Still Not Getting Any.
This was followed by "Can't Keep My Hands Off You," "When I'm Gone," and "Jump."
As the band sang "Jump," vocalist Pierre Bouvier asked the audience to jump in place and sing along with the band.
As he ended the song, Pierre started thanking their Filipino fans: "Thank you, Manila! Salamat!
"You guys are amazing!
"We missed you guys!
"We missed the Philippines!"
After which, lead guitarist Jeff Stinco started to strum his guitar to the tune of their monster hit, "Addicted."
The crowd again burst into cheers and applause.
The band also performed songs from its Get Your Heart On! album, such as "My Alien," "You Suck at Love," "Thank You," "Your Love is a Lie," "Astronaut," and "Summer Paradise."
ADVERTISEMENT - CONTINUE READING BELOW
Then it did a medley of "Fuck You" by Cee-Lo Green, "Dynamite" by Taio Cruz, and "Raise Your Glass" by Pink.
After performing the medley, Pierre thanked the crowd once again: "Thank you to everybody out here, for being here tonight!"
When it came to "Jet Lag," the crowd went crazy, especially with this part of the song: "And my heart, heart, heart is so jetlagged / Heart, heart is so jetlagged / Heart, heart is so jetlagged / So jetlagged!"
Some of the songs also performed last night were the following: "This Song Saved My Life," and the phenomenal songs "Welcome to My Life," and "I'd Do Anything."
At around 10 p.m., Pierre shouted "I love you Manila! Mahal ko kayo!" and walked off the stage with his band.
ENCORE. The Canadian pop punk band left the stage like it was the end of the concert.
The audience refused to let the members go, so they chanted: "We want more!"
Pierre was heard to say once again, "Salamat Manila!
"You guys mean a lot to us.
"Without you, we won't be here today."
Then they all came back, this time with their song "Loser of the Year" and their monster hit "I'm Just a Kid," from their first album No Pads, No Helmets... Just Balls.
"Im Just a Kid" was their first song 10 years ago!
And for the grand finale which the crowd asked for lustily, the band sang "Perfect"— and their fans sang right along with them.