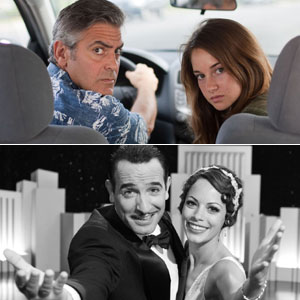 ---
Alexander Payne's The Descendants and Michel Hazanavicius's The Artist picked up top prizes at the 69th Golden Globe Awards, held earlier today, January 16, in Hollywood.
The Descendants and The Artist were named Best Motion Pictures, Drama and Comedy/Musical, respectively.
Their lead stars both won Best Actors: The Descendants' George Clooney in Drama and The Artist's Jean Dujardin in Comedy or Musical.
Martin Scorsese won Best Director for Hugo.
Meryl Streep won her 8th Golden Globe trophy after bagging Best Actress in Drama, for her portrayal of former British Prime Minister Margaret Thatcher in The Iron Lady.
Michelle Williams won Best Actress in A Comedy or Musical for her performance as Hollywood goddess Marilyn Monroe in My Week With Marilyn.
In the Television category, Modern Family won Best Comedy or Musical Series, while Homeland was adjudged Best Drama Series.
Here is the complete list of winners at the 69th Golden Globe Awards, which was hosted by Ricky Gervais:
Motion Picture
Best Drama - The Descendants
Best Comedy or Musical - The Artist
Best Actor-Drama - George Clooney (The Descendants)
Best Actress-Drama - Meryl Streep (The Iron Lady)
Best Actor- Comedy or Musical - Jean Dujardin (The Artist)
Best Actress-Comedy or Musical - Michelle Williams (My Week With Marilyn)
Best Director - Martin Scorsese (Hugo)
Best Supporting Actor - Christopher Plummer (Beginners)
Best Supporting Actress - Octavia Spencer (The Help)
Best Screenplay - Woody Allen (Midnight In Paris)
Best Animated Film - The Adventures of Tintin
Best Foreign Language Film - A Separation (Iran)
Best Original Song - "Masterpiece" by Madonna (W.E.)
Best Original Score - Ludovic Bource (The Artist)
Television
Best Comedy or Musical Series - Modern Family
Best Actor In A Comedy or Musical Series - Matt LeBlanc (Episodes)
Best Actress In A Comedy or Musical - Laura Dern (Enlightened)
ADVERTISEMENT - CONTINUE READING BELOW
Best Drama Series - Homeland
Best Actor In A Drama Series - Kelsey Grammer (Boss)
Best Actress In A Drama Series - Claire Danes (Homeland)
Best Mini-Series or TV Movie - Downton Abbey
Best Actor In A Mini-Series or TV Movie - Idris Elba (Luther)
Best Actress In A Mini-Series or TV Movie - Kate Winslet (Mildred Pierce)
Best Supporting Actor In A TV Series, Mini-Series, or TV Movie - Peter Dinklage (Game of Thrones)
Best Supporting Actress In A TV Series, Mini-Series, or TV Movie - Jessica Lange (American Horror Story)