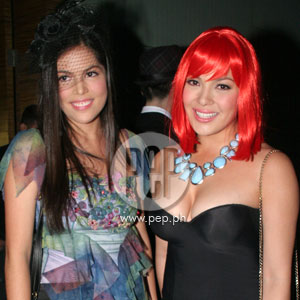 ---
After her production number with half-sister KC Concepcion on ASAP 2012 yesterday, February 5, Cloie Syquia Concepcion revealed that she would like to work with acoustic heartthrob Sam Milby.
ASAP host Luis Manzano asked Cloie, "Who among the leading men of ABS-CBN would you like to work with?"
Cloie immediately answered, "Ate KC."
But Luis and KC reiterated, "Leading man?"
Cloie said, "Oh, leading man! Sam Milby, but he's moving."
The Filipino-American actor recently left the Philippines to pursue his Hollywood dreams. (CLICK HERE for related article.)
CENTER STAGE WITH ATE KC. After 15 years of not seeing each other, KC and Cloie enjoyed sharing the stage together.
They sang "That's Not My Name" of The Ting Tings.
To keep the newcomer relaxed on the show, TV host-actress Karylle asked Cloie, "How does it feel to be on ASAP center stage?"
Cloie replied with excitement, "Oh my gosh! It's so great! I can't even imagine that I'm here, but I am!"
After which, her Ate KC also threw a question to her baby sister, "So, kumusta naman?"
Cloie replied, "I'm great! I'm so happy right now.
"This is one of the happiest moments of my life.
"Thank you so much everyone for welcoming me."
MODELING. Karylle also asked Cloie about her plans and dreams now that she's officially in the showbiz industry.
"Hopefully, I'm gonna start out with modelling and see where it goes. But I'm super excited. Thank you," Cloie answered.
Just like her Ate KC, Cloie also signed up a contract wih Viva Entertainment, Inc.
Cloie's contract signing also coincided with her mom Jenny Syquia's return to showbiz. (CLICK HERE to see related article.)
Cloie is Jenny's daughter with actor Gabby Concepcion.