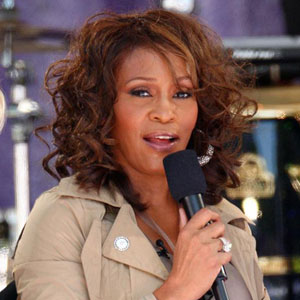 ---
Dresses and jewellery belonging to Whitney Houston will go up for auction next month.
Fifteen outfits worn by the star—who was found dead in a Los Angeles hotel the day before the Grammy Awards (February 11) and was laid to rest on Sunday (February 19)—will go under the hammer, including a black velvet dress she wore in the video to her most popular song, "I Will Always Love You."
Among other lots is a pair of earrings Whitney wore in her movie breakthrough, The Bodyguard.
Auctioneer Darren Julien says since her death, more than 50 friends, family and associates have offered the singer's former possessions for auction.
He told the New York Daily News newspaper: "This is something that commonly happens after somebody passes—especially someone with the status of Whitney Houston.
"Her items can increase 10, 20, even 30 times compared to their previous value prior to her death. These items become part of history really."
Whitney's lots will be part of Julien's Auctions' "Hollywood Legends" sale, which also includes pieces that once belonged to stars including Charlie Chaplin, Princess Diana, and Charlton Heston.
Julien added: "Whitney is a legend so it's definitely an appropriate auction for her. It's a reason to celebrate her life, not put these items in a box under the bed."
Whitney's belongings are expected to fetch tens of thousands of dollars when the auction takes place on March 31 and April 1 at Julien's Auctions in Beverly Hills, California.