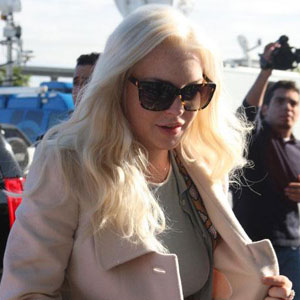 ---
Lindsay Lohan will play Elizabeth Taylor in an upcoming TV movie.
The troubled actress will take on the role of the late screen legend in Lifetime project Liz and Dick, which will focus on Taylor's tempestuous marriages to actor Richard Burton.
As the 25-year-old star's turbulent personal life—which has seen her hauled in for numerous court appearances, brief jail stints and undergo rehab treatment for alcohol and substance abuse—has taken a back seat to her career in recent years, Lindsay has been handed a legal caveat in relation to the role.
If she stays on the right side of the court and obeys the judge's orders relating to her 2007 conviction for driving under the influence (DUI), she will be allowed to take on the part of Elizabeth in the movie, Access Hollywood reports.
The project—which is set to be produced by Larry Thompson—has been in development since shortly after the death of the Cleopatra star in March 2011, when she passed award from congestive heart failure at the age of 79.
ADVERTISEMENT - CONTINUE READING BELOW
Last month, Lindsay was praised by Los Angeles Superior Court Judge Stephanie Sautner for the work she undertook at the Los Angeles County Morgue as part of her sentence for breaking her probation in relation to the 2007 DUI incident.
She told her: "I'm pleased to say she's done it all. Just keep doing what you're doing, you appear to be doing it well. The probation officer has written a favourable report, as has the volunteer centre."