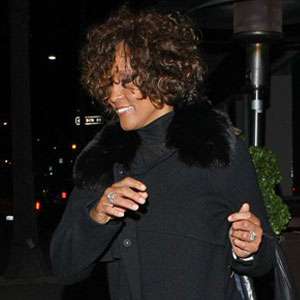 ---
The cemetery where Whitney Houston was laid to rest has been closed to the public indefinitely.
Officials at the Fairview Cemetery in New Jersey made the decision following a series of traffic problems resulting from grieving fans wanting to pay their respects to the singer, who was buried there on Sunday (February 19).
Police Captain Cliff Auchter said: "It's a private property, and it's up to them to make that decision. It was done in light of the overcrowding that occurred.
"The cemetery is a maze of very small roads, so if two cars come face to face, you have a Mexican standoff."
Those with relatives buried in the cemetery will not be affected by the ban, and a round-the-clock police presence will remain in place for the forseeable future.
Capt. Aucher added: "I don't have any idea as to when that will change. It's being evaluated day to day [by the cemetery]."
ADVERTISEMENT - CONTINUE READING BELOW
Despite the traffic problems, there have been no incidents at the site.
He added: "It's been relatively quiet."
Whitney was found dead in the bath of her Beverly Hills hotel room on February 11. She was 48 years old.