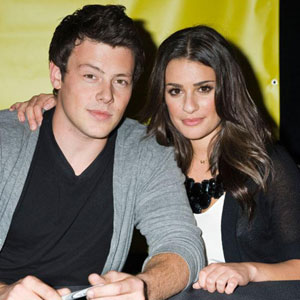 ---
Lea Michele and Cory Monteith are reportedly dating.
The Glee co-stars—who play onscreen couple Rachel Berry and Finn Hudson in the musical TV drama series—were spotted enjoying Valentine's Day (February 14) together at Los Angeles eatery Il Covo, where they were seen holding hands "flirting."
An eyewitness told Life & Style magazine: "They were into each other all night. She was very happy, flirting and touching Cory a lot. He just stared at her with puppy-dog eyes."
The onlooker revealed the pair were holding hands throughout the evening and at one stage, Cory fed Lea spaghetti and she affectionately rubbed his back in return.
A Glee crew member added: "Cory is totally into her."
The 25-year-old beauty split from Broadway star Theo Stockman—her boyfriend of 17 months—in September 2011.
Last year, Lea admitted that if she was going to get romantically involved with any other cast members, then it would be with the 29-year-old hunk.
She explained: "For me, if it was going to happen with anybody, it would have happened with Cory.
"As long as I get to have scenes with Cory, it makes me really happy."