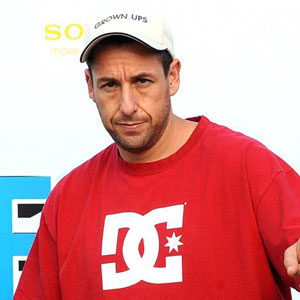 ---
Adam Sandler has received a record 11 nominations for this year's Razzies.
The actor has been put forward for several dubious honors at the ceremony, which celebrates the worst films of the past year in a spoof to the Oscars.
His nominations include Worst Actor for both Jack and Jill and Just Go With It—and Worst Actress for Jack and Jill in which he plays a family man and his own twin sister.
He also has two nominations as Worst Screen Couple opposite Jennifer Aniston or Brooklyn Decker in Jack and Jill and opposite Katie Holmes, Al Pacino or himself in Jack and Jill.
After being a producer on Bucky Larson and Jack and Jill, Sandler received nods in the Worst Picture and Worst Prequel, Remake, Rip-off or Sequel categories. He also got Worst-Screenplay nominations as a writer on both movies, and a Worst Ensemble nomination for Jack and Jill.
Razzies founder John Wilson said: "It's almost karmic for someone to have made that much razz-able stuff in one year. He has angered someone really powerful, I would say."
The awards are normally held the night before the Oscars—which take place tonight (February 26)—but organizers have now moved them to April 1 as they think April Fool's Day is the ideal time to have them.
Wilson said: "I have always wondered if we stepped slightly away from lockstep with the Oscars, what would happen. We just kept hoping the Oscars would do their ceremony on April 2, but they just never did."
Other nominees include New Year's Eve, Transformers: Dark of the Moon, The Twilight Saga: Breaking Dawn Part 1, Nicole Kidman, Robert Pattinson, and Kristen Stewart.
Full list of Razzies nominations:
WORST PICTURE:
Bucky Larson: Born to Be a Star
New Year's Eve
Transformers: Dark of the Moon
The Twilight Saga: Breaking Dawn, Part 1
ADVERTISEMENT - CONTINUE READING BELOW
WORST ACTOR:
Adam Sandler - Just Go With It & Jack and Jill
Nick Swardson - Bucky Larson
Russell Brand - Arthur
Taylor Lautner - Abduction & Breaking Dawn
Nicholas Cage - Drive Angry 3-D, Season of the Witch, & Trespass

WORST ACTRESS:
Adam Sandler - Just Go With It & Jack and Jill
Sarah Palin - Sarah Palin: The Undefeated
Sarah Jessica Parker - I Don't Know How She Does It & New Year's Eve
Kristen Stewart - The Twilight Saga: Breaking Dawn Part 1
Martin Lawrence - Big Mommas: Like Father, Like Son

WORST SUPPORTING ACTOR:
Al Pacino - Jack and Jill
Patrick Dempsey - Transformers: Dark of the Moon
James Franco - Your Highness
Nick Swardson - Jack and Jill & Just Go With It
Ken Jeong for four movies - Big Mommas, The Hangover: Part II, Transformers & Zookeeper

WORST SUPPORTING ACTRESS:
David Spade - Jack and Jill
Martin Lawrence - Big Mommas: Like Father, Like Son
Nicole Kidman - Just Go With It
Rosie Huntington-Whiteley - Transformers: Dark of the Moon
Katie Holmes - Jack and Jill

WORST SCREEN ENSEMBLES:
The Entire Cast of Bucky Larson
The Entire Cast of Jack and Jill
The Entire Cast of New Year's Eve
The Entire Cast of Transformers
The Entire Cast of Breaking Dawn

WORST SCREEN COUPLE:
Nicholas Cage & "anyone sharing the screen with him in any of his three 2011 films"
Shia LaBeouf & Rosie Huntington-Whiteley - Transformers
Adam Sandler & Jennifer Aniston or Brooklyn Decker - Just Go With It
Adam Sandler & Katie Holmes, Al Pacino or himself - Jack and Jill
Kristen Stewart & Taylor Lautner or Robert Pattinson - Breaking Dawn

WORST PREQUEL, SEQUEL, REMAKE OR RIPOFF:
Arthur
Bucky Larson
The Hangover: Part II
Jack and Jill
Breaking Dawn

WORST DIRECTOR:
Michael Bay - Transformers
Tom Brady - Bucky Larson
Bill Condon - Breaking Dawn
Dennis Dugan - Jack and Jill' & Just Go With It
Garry Marshall - New Year's Eve

ADVERTISEMENT - CONTINUE READING BELOW
WORST SCREENPLAY:
Bucky Larson
Jack and Jill
New Year's Eve
Transformers
Breaking Dawn