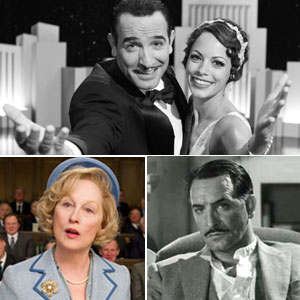 ---
The Artist becomes the first silent film to win Best Picture in the Oscar Awards since 1929.
This silent film was given the highest honor at the 84th Oscar Awards held earlier tonight, February 26 (U.S. time), at the Kodak Theater in Hollywood, California.
The Artist won a total of five awards, including Best Director for Michel Hazanavicius, Best Costume Design, and Best Original Score.
Its lead star, French actor Jean Dujardin, wins Best Actor for his portrayal of silent movie star George Valentin.
Interestingly, Dujardin lost in this category at the French version of Oscars, the Cesar Awards, last February 24. The Besy Actor ward went to Omar Sy for Intouchables.
Meryl Streep wins her third Oscar trophy—with 17 nominations—bagging the Best Actress award for her performance as former British prime minister Margaret Thatcher in The Iron Lady.
Streep waited 30 years for this award. She first won in 1979 as Best Supporting Actress for Kramer vs. Kramer. Her second Oscar, this time for Best Actress, came in 1982 for Sophie's Choice.

Eighty-two-year-old Christopher Plummer wins his first Oscar as Best Supporting Actor for his performance as a gay father in Beginners. Plummer is now the oldest actor to win an Oscar.
Octavia Spencer, on the other hand, won Best Supporting Actress for The Help.
Martin Scorsese's Hugo also picked up five awards in the technical categories.

Full list of winners in the 84th Academy Awards:

Best Picture - The Artist
Best Actress - Meryl Streep (The Iron Lady)
Best Actor - Jean Dujardin (The Artist)
Best Director - Michel Hazanavicius (The Artist)
Best Supporting Actor - Christopher Plummer (Beginners)
Best Supporting Actress - Octavia Spencer (The Help)
Best Original Screenplay - Woody Allen (Midnight In Paris)
Best Adapted Screenplay - Alexander Payne, Nat Faxon, and Jim Rash (The Descendants)
Best Foreign Language Film - A Separation (Iran)
ADVERTISEMENT - CONTINUE READING BELOW
Best Animated Feature Film - Rango
Best Cinematography - Robert Richardson (Hugo)
Best Film Editing - Kirk Baxter and Angus Wall (The Girl With The Dragon Tattoo)
Best Art Direction - Production Design: Dante Ferretti; Set Decoration: Francesca Lo Schiavo (Hugo)
Best Costume Design - Mark Bridges (The Artist)
Best Visual Effects - Rob Legato, Joss Williams, Ben Grossman and Alex Henning (Hugo)
Best Makeup - Mark Coulier and J. Roy Helland (The Iron Lady)
Best Original Score - Ludovic Bource (The Artist)
Best Original Song - "Man or Muppet" from The Muppets, Music and Lyric by Bret McKenzie
Best Sound Editing - Philip Stockton and Eugene Gearty (Hugo)
Best Sound Mixing - Tom Fleischman and John Midgley (Hugo)
Best Documentary Feature - Undefeated
Best Live Action Short Film - The Shore (Terry George and Oorlagh George, UK)
Best Short Film - Saving Face (Daniel Junge and Sharmeen Obaid-Chinoy, USA and Pakistan)
Best Animated Short Film - The Fantastic Flying Books of Mr. Morris Lessmore (William Joyce and Brandon Oldenburg, USA)
Billy Crystal hosts the Oscars for the ninth time. He opened the show with his usual musical number presenting the nine Best Picture nominees.
The presenters include Tom Hanks, Jennifer Lopez, Cameron Diaz, Sandra Bullock, Christian Bale, Tina Fey, Bradley Cooper, Gwyneth Paltrow, Robert Downey Jr., Ben Stiller, Emma Stone, Melissa Leo, Penelope Cruz, Owen Wislon, Will Ferrell, Zach Galifianakis, Angelina Jolie, Milla Jovovich, Bridesmaids cast, Michael Douglas, Meryl Streep, Natalie Portman, Colin Farrell, and Tom Cruise.