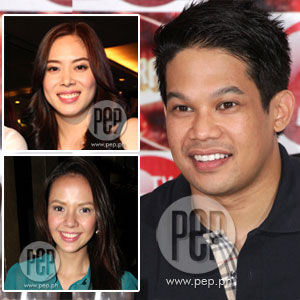 ---
"Seniority," according to Mo Twister, is one of the reasons behind Angelika "Angelicopter" Schmeing-Cruz's termination from Magic 89.9.
On February 28, a listener of Good Times e-mailed to PEP (Philippine Entertainment Portal) his audio recordings of a portion of the radio show's February 16 episode.
The source requested for anonymity, and said that he recorded the segment because it talked about his friend Mojo, who used to be a co-host in the show.
The recording had the voices of Mo discussing with his new co-host, DJ Suzy, the reason behind the departure of his former co-hosts Angelicopter and Mojo Jojo.
Mo, who is now based in New York, still anchors the radio program.
In the recording, Mo asked Suzy what she knows about Mojo Jojo's story.
Suzy answered, "I know Mojo resigned, Mojo left the show.
"And from what I also know, he will be part of a different show in the near future here in the same station."
ADVERTISEMENT - CONTINUE READING BELOW
Mojo Jojo—whose real name is Joseph Javier—has been co-hosting the show with Mo since 2006.
But Mo Twister refuted Suzy's story, and went on to recall how they've always had problems in the past with Mojo's tardiness.
Mo also added that for the past few months, Mojo had bashed him with "ill" remarks on the latter's "personal website"—which he maintains with what Mo dubbed as Mojo's "high society boyfriend."
Still, according to Mo, his co-host even attacked some of their show's sponsors on the same website.
"Which is kind of odd considering it's from somebody on our team," he said.
Mo then continued his story with an anecdote about Angelicopter and Grace Lee:
"Okay, so Chopper [Angelicopter] and Grace get into a fight, right? And did they ever say that Grace said if Chopper doesn't get fired she'll never come back?
ADVERTISEMENT - CONTINUE READING BELOW
"Did we ever say that on the show yet or no?" he asked.
Suzy replied, "I don't think so. Well, now you did."
Mo continued, "I think that generally is what happened.
"Okay, so there was a thing where, 'I can't work with her so one of us has to go.'
"And then collectively, a decision was made to retain Grace because she's seniority and things like that.
"And then Chopper was told to take a break and not like get, you know, formally fired I guess, but to take a break.
"It all ends up like she doesn't want to be on the program anymore and she's gone.
"So the reason for that is because of the internal fighting going on between both of them."
On February 24, the management of Magic 89.9 released an official statement saying that Angelicopter was fired due to "internal issues" and that her termination was decided upon "after an ongoing assessment of her overall performance."
ADVERTISEMENT - CONTINUE READING BELOW
(CLICK HERE to read related article)
In an interview with Grace Lee on February 27, she also reiterated that Angelicopter was removed from the station not because of their misunderstanding.
(CLICK HERE to read related story)
PEP has already contacted Mo Twister to clarify the statements he made on air, but he has not yet responded.
The website is also open to reactions or statements coming from the other parties concerned.