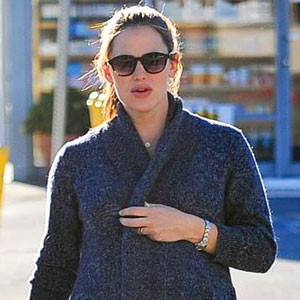 ---
Jennifer Garner has given birth to a baby boy.
The 39-year-old Valentine's Day actress and husband Ben Affleck welcomed their third-born in Santa Monica, California, according to US Weekly.
And while no other details have yet been released, both mother and child are said to be doing well.
The proud parents—who tied the knot seven years ago—have given daughters Violet, six, and Seraphina, three, the chance to name their baby brother although some of the options are far from mainstream.
Jennifer previously told E! News: "Our girls are working on names. At first they were definitely Disney. It was like, Donald Duck, Minnie Mouse Affleck. And then they've moved on. Then it was Peter Pan, Captain Hook, Smee."
The couple announced the pregnancy in August 2011 but refused to divulge that baby's gender, although Jennifer previously admitted she was not sure about Ben's preferences.
She told The Tonight Show: "I would have thought [he wanted a boy]. At first... I really thought so, and then [Ben] kind of said, 'Well, we have girls. We know how to do girls. My girls love me. I'm the big guy in the house.' So, now I'm not sure."
ADVERTISEMENT - CONTINUE READING BELOW
She also told The Ellen DeGeneres Show that while it would be "weird" to have a boy, it would also be "cool and different."