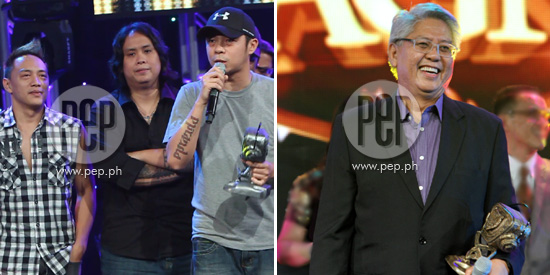 ---
Photos by Melo Balingit

Dubbed as the "Pambansang Banda ng Pilipinas," Parokya ni Edgar took home six awards at the MYX Music Awards 2012, held last night, March 13, at the Music Museum in Greeenhills, San Juan.
Parokya ni Edgar was voted by fans, through text, as Favorite Artist, Favorite Group, Favorite Song for their hit "Pangarap Lang Kita" featuring Hapee Sy, Favorite MYX Live Performance, Favorite Collaboration for "One Hit Combo" with Gloc-9, and Favorite Celebrity Appearance in a Music Video awarded to JM de Guzman for the music video of "Pangarap Lang Kita."
THE MAESTRO. A tribute was also given to celebrated songwriter Ryan Cayabyab who was hailed as MYX Magna Awardee; following the Eraserheads, Jose Mari Chan, and Regine Velasquez.
The maestro's most memorable compositions were performed by some of the country's best singers who have worked closely with Cayabyab through the years: The Company ("Umiikot Sumisirko"), Geneva Cruz ("Kailan"), Jed Madela ("Paraiso) and a duet with Regine Velasquez ("Araw Gabi"), with Regine Velasquez ("Tuwing Umuulan"), and Basil Valdez ("Nais Ko").
These singers sang "Kay Ganda ng Ating Musika" for the finale.
KARL ROY. With the passing of rock icon Karl Roy that morning, his cousin, former The Dawn member Francis Reyes, offered a mini-tribute to him in the middle of the show.
He pointed out how it was a bit odd that Roy was best remembered for his cover of P.O.T.'s "Yugyugan Na," but he remembers him more as a great performer.
Francis said, "He was an extremely fierce character. When you see Karl Roy on the stage, he belongs there."
ADVERTISEMENT - CONTINUE READING BELOW
THE WINNERS. The complete list of MYX Music Awards 2012 winners:
Favorite Song: "Pangarap Lang Kita" by Parokya ni Edgar
Favorite K-Pop Video: "Mr. Simple" by Super Junior
Favorite Media Soundtrack: "Fallin'" by Sarah Geronimo (Catch Me I'm In Love)
Favorite Remake: "Unbelievable" by Chicosci
Favorite MYX Live Performance: Parokya ni Edgar
Favorite Mellow Song Video: "Kay Tagal Kitang Hinintay" by Spongecola
Favorite Urban Video: "Elmer" by Gloc9
Favorite Rock Video: "Halik" by Kamikazee
Favorite International Video: "Fireworks" by Katy Perry
Favorite Collaboration: "One Hit Combo" by Parokya ni Edgar Ft. Gloc-9
Favorite Guest Appearance in a Music Video: JM de Guzman in "Pangarap Lang Kita" by Parokya ni Edgar Ft. Happee Sy
Favorite MYX Celebrity VJ: Somedaydream
Favorite Group: Parokya ni Edgar
Favorite New Artist: Zia Quizon
Favorite Male Artist: Gloc-9
Favorite Female Artist: Yeng Constantino
Favorite Artist: Parokya ni Edgar
Favorite Music Video: "20/20" by Pupil
MYX Magna Awardee: Ryan Cayabyab