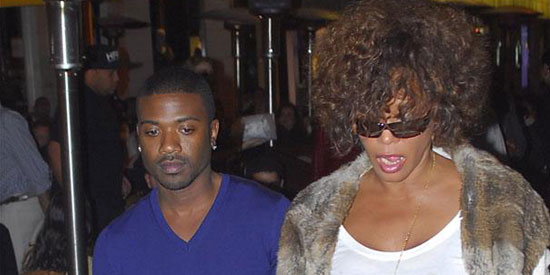 ---
Whitney Houston's boyfriend Ray J reportedly made "a ton" of sex tapes with the late singer.
It is claimed the 31-year-old rapper—who famously starred in a sex tape with Kim Kardashian—has a whole raft of racy films and pictures made during his on-and-off relationship with Whitney.
According to Star magazine, the Houstons have begged him not to release anything—but Ray strongly denies any such material exists.
A source said: "[The Houstons have] been in contact with Ray and told him they do not want any photos or videos painting her in a bad light to come out.
"[They] explained to Ray that now is the time to honor Whitney, not drag her legacy down."
But Courtney Barnes, spokesman for Ray J blasted the accusations, telling the Daily Mail newspaper: "The despicable tabloid report claiming the existence of a sex tape between Ray J and Whitney Houston is not true. There is no sex tape.
"This story along with so many others have been released to sell magazines. There is no sex tape or explicit photos."
Meanwhile, Whitney—whose lifeless body was found submerged in the bath of her hotel suite on February 11—is said to have adored her lover.
The source added: "[She] loved doting on him and would have done anything he asked."