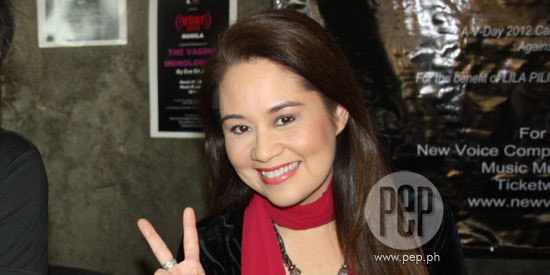 ---
Monique Wilson has agreed to play the lead character in an upcoming local production of The King and I.
The London-based theater actress revealed that this is her first time to portray Anna Leonowens in the Rodgers and Hammerstein classic.
The King and I will be staged from September to December at Resorts World Manila.
"This school that I teach in, they said I could take a term off. I'll be here from July to December," said Monique during the March 26 press conference for V-Day Manila 2012.
What made her decide to accept this major role in a Philippine production?
"Deep in my heart, there's always been this pull to come back and do shows here because, of course, this is my home.
"I think it would be selfish to say no when there's an opportunity to share your musical talents to Filipinos who are eager to watch," said Monique with a smile.
She added, "I feel like it's my duty to come back. That's another advocacy of mine: to keep theater alive here."
Monique is best known for being part of the original West End cast of Miss Saigon in 1989.
She currently handles the MA/MFA Acting course for international students at the East 15 Acting School of the University of Essex.
How did she manage to find the time to accept this role?
"I've been living in London since 2001 and I got my Masters and I started teaching there.
"Siguro three times a year, I would come home.
ADVERTISEMENT - CONTINUE READING BELOW
"But for the last four years, I've been in London full-time since I started this drama course.
"The course I'm heading is a Master's degree so it's a very demanding job.
"The course has been running for four years so now I have a bit more time so the school decided to let me take the term off.
"Saka I miss performing in Manila. The last play I did was Sound of Music in 2006.
"I think you can never forget Filipino audiences because for what do we all of these if not for them?
"We have to come back home and do shows here.
"There's a younger generation of audiences who have never seen you and have never learned from you.
"Ako kasi, guro talaga ako, which is why I want to come back and share what I know."
THE VAGINA MONOLOGUES MARKS 12TH ANNIVERSARY. This 2012, Monique's theater group will mount The Vagina Monologues to mark its 12th year in the Philippines.
Around 40 women will take part in this production that will be staged this Saturday, March 31, 8 p.m., at the Music Museum in Greenhills.
The proceeds will go to Lila Filipina, an organization of Filipino comfort women who were repeatedly raped by Japanese soldiers during World War II.
"We have to do this for the comfort women because they were courageous enough to speak up about such a controversial subject matter.
"As fellow Filipinas, it is our obligation to support each other," said Monique.
ADVERTISEMENT - CONTINUE READING BELOW
Written by American playwright Eve Ensler, The Vagina Monologues is based on interviews with over 200 women about their memories and experiences of sexuality.
The staging on March 31 will actually feature a mix of English and Tagalog monologues that will be presented by mainstream stars, political activists and some journalists.
Eve actually came to the Philippines in 2002 to personally talk with Filipinas who were molested by Japanese soldiers during the war.
As a result, the playwright came up with a monologue titled "Say It for the Comfort Women" that will be delivered by broadcast journalist Ces Drilon and actress Pinky Amador.
Monique, the founder of New Voice Company, recalls the difficulties that they encountered when they started mounting this controversial play.
"We've been doing The Vagina Monologues since 2000 and since then, we've had hundreds and hundreds of performances. We have brought it all over the country and we have brought it to Hong Kong, Tokyo, and Singapore.
"We thought we would do this for a few years 'coz we thought things would change. Things have changed but the reality is there is still so much violence. In a way, kung advocate for change you have to keep on going."
Given its sensitive theme, how did they make audiences accept The Vagina Monologues?
"What I learned is that you need patience if you're an activist. In the beginning, we just said, 'let's put on a good show.'
"Ang kinakatakutan ng mga tao, baka malaswa 'yan, baka bastos.
"In the beginning, some people were saying, just say V Monologues but I said, hindi pwede 'yan, hindi 'yan ang title.
ADVERTISEMENT - CONTINUE READING BELOW
"Or they would tell us to say The Monologues but I said, in a way, I had to be matapang rin.
"In the beginning, dahan-dahan lang, we could say vagina on radio and TV and after a year, it wasn't an issue anymore.
"The first year was quite challenging," she recalled.
"When we did 'Usapang Puke,' which is the Tagalog version, they did not allow us to say puke on radio and television but after a year, okay na rin.
"It really began as a slow journey but eventually people realized it's really to end violence against women, the word did not become an issue anymore.
"It became the bigger picture of really changing the situation for women here in the Philippines."
What makes the 2012 version of The Vagina Monologues unique is the presence of first-time participants.
Veteran actress Boots Anson-Roa will deliver a monologue about child birth, acoustic singer Aiza Seguerra will deliver a monologue about a lesbian encounter, while pop icon Kuh Ledesma will perform a song about women.
Comebacking actress Giselle Tongi will perform "My Angry Vagina," which describes the various injustices being done against the vagina.
Theater actresses Joy Virata, Pinky Amador, Tami Monsod, Juno Henares, Sheila Francisco, Madeleine Nicolas, and Angeli Kanapi; folk singer-songwriter Cynthia Alexander; political activist Leah Navarro; screenwriter Bibeth Orteza; journalist Dolly Anne Carvajal; women's rights activists Anna Leah Sarabia, Edna Aquino, Emmi de Jesus, and Liza Maza; obstetrician gynecologist Dr. Marlyn Ruaro are also expected to take part in the March 31 performance.
ADVERTISEMENT - CONTINUE READING BELOW