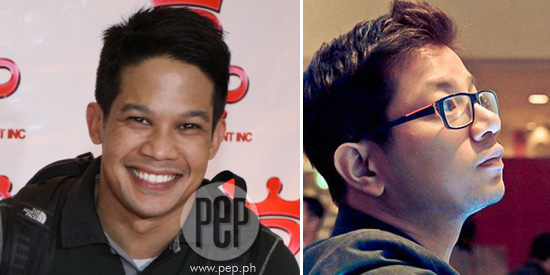 ---
Remember the story posted in PEP.ph (Philippine Entertainment Portal) on February 29 about DJ Mo Twister telling the listeners of his morning radio show Good Times on Magic 89.9, the reason his former co-hosts, DJs Mojo Jojo and Angelicopter, left the show?
(CLICK HERE to read related article)
Well, it seems there's more to that account.
In that article, only a portion of Mo's on-air account was quoted. The rest of the transcript had been condensed to focus on the issue between Angelicopter and Grace Lee.
(CLICK HERE to read related story)
In fact, Mo had a lot more to say about Mojo Jojo's departure in that chatter.
Here is the full transcript of Mo's conversation with his co-host DJ Suzy:
Mo Twister: "So, Mojo and Chopper [Angelicopter] are no longer on the program. Let's see here, how and why?
"What do you know about it? And then I'll go ahead and I'll put my input in. What have you heard? Why are you here on our show? Why are you sitting there?"
Suzy: "I know Mojo resigned, Mojo left the show.
M: "Sure, that's what they call it."
S: "And from what I also know, he will be part of a different show in the near future here in the same station."
M: "Sure, all right. So, how do you resign? O, [you mean] he resigned from the program?"
S: "Yeah, he resigned from the program."
M: "Okay, I gotcha. Well, there you go. All I know is, um, here's how it works: We all know that we had a problem with him with the tardiness, right? The everyday tardiness for years and years and years and no real, true, good excuses given.
ADVERTISEMENT - CONTINUE READING BELOW
"It was always 'Oh, something came up' and blah, blah, blah, and there are times where we need people there to do the program, especially with me here [in New York] and it became a little bit of an issue.
"The past couple of months also, I know that Mojo runs a website—him and his boyfriend run a website—that he plugs constantly on our program and they've been…they write ill things about me there from time to time, which is kind of odd considering it's from somebody on our team."
S: "So you were still on the show together when he would write stuff?"
M: "O, yeah, yeah totally, totally. And the thing is we're like a team. On air we'll destroy each other on air. I mean, well, you know, Suzy, welcome to the club. You know. You'll get [bashed]. Yesterday we called you nga pangit.
"So, we're gonna rip each other out on air, each and every one of us, and that's fine. But off air, we don't really do a lot of that stuff and I think it came to a point where…
CHOPPER & GRACE. "So, Chopper and Grace get into a fight, right? And did they ever say that Grace said if Chopper doesn't get fired she'll never come back? Did we ever say that on the show yes or no?
S: "I don't think so. Well, now you did."
M: "I think that generally is what happened. Okay, so there was a thing where 'I can't work with her so one of us has to go,' and then collectively a decision was made to retain Grace because she has seniority and this and that; and Chopper was told to take a break and not like get, you know, formally fired I guess, but to take a break.
ADVERTISEMENT - CONTINUE READING BELOW
"It all ends up like she doesn't want to be on the program anymore and she's gone. So the reason for that is because of the internal fighting going on between both of them.
"So when I came across these websites of Mojo and his boyfriend that kind of badmouthed our team, I don't let it bother me very much.
"But the problem was it started involving sponsors of the station. It's so ridiculous, like things that I was giving you guys, Blackberry cellphones and tracking them. Have I ever given you a cellphone?
S: "No, and I'm pretty mad about that."
M: "Well, sorry about that. But hey, listen baby, I'll track and…it became outrageous like that and I had to put a stop to it. The blame entirely goes to Mojo and I guess his boyfriend.
"His boyfriend is one of these high society wannabes. You know like, 'Hey, I'm part of the richy rich," but at the same time he's not. You know these guys 'yong feeling mayaman, super powerful, pero hindi naman talaga?
"When you see the stats, when you see the paper, what do you contribute to society? Nothing. Really it's just a lot of talk, a lot of 'I wanna be.'
"You remember this Gucci Gang thing with Brian Gorrell and like 'I wanna take down high society,' you know, but at the same time tries to be part of high society?
"It's really one of these things that calls itself high society, calls the A-list, the B-list, the C-List and there's just a lot of discrimination between [people] if you make a lot money or if you party hard and everything. But it's all right, I mean, whatever. You deal with it.
ADVERTISEMENT - CONTINUE READING BELOW
WEBSITE. "So that website tends to give away all of these really fabricated stories and stuff, but then they hide behind these 'Oh, political rights,' it's creepy.'
"That side is just…I mean, if this was a print version, I'd use it to wipe my ass. That's the value of that, the information on that website. But unfortunately it's digital. I could pee on my computer screen, but that's the best I can do."
S: "Aside from the Blackberry thing, what else was written about you?"
M: "You should look it up. I haven't memorized. And the thing is, it's a site that thinks that they're powerful, that they're major players in society, that they think that they inculcate culture and all that, it really is a crop of crap. If you read it, you'll know it's crap.
"But anyway, he's gone but the show will go on without him. No problem. But for him to be retained by the station is a little bit shocking for me because my thing was if Grace or if someone could say "I wanna get rid of Chopper because of this," then Mojo should serve the same fate.
"Because a President, although with Chopper was put together, right? But unfortunately it's not and he'll be shipped off to somewhere else, I guess. But it doesn't matter, I'm here, he's there.
"I love Mojo dearly for the contribution and camaraderie that we've had since we've been together here.
ADVERTISEMENT - CONTINUE READING BELOW
"But the tag team between him and his high society boyfriend, and then hitting sponsors of our program, I mean, that's wrong and I think he should be dispatched as well for that."
MOJO JOJO SPEAKS UP. Now, Mojo Jojo, a.k.a. Joseph Javier, tells his side of the story
In a phone interview with Mojo on April 30, he said that he was not fired—as Mo Twister suggested in his account—rather it was his decision to leave the show.
"I left because he's [Mo] abusive, like he treats you without respect.
"He threw a phone at me. He calls me stupid, and says 'I can get you fired,' 'You're nothing without me,' 'I made you,' iyong ganyan.
"He does it every day, so physically and emotionally it's not good for me.
"He put me into [a] depression, that's why I believe no one's helping me here.
"And I never could, like, complain. He'd define some problems like Mojo's late or like, Mojo has an attitude problem when I'm vacationing for two weeks. Parang gano'n."
Did he ever try to address Mo about his concerns?
"He knows about it, but he doesn't even care."
Mojo also added, "The show is not becoming a happy show. It's becoming more like a sex show. It's not happy, it's not good times anymore.
"I wasn't happy going to work kasi even if you work hard, like no one's perfect, everyone makes mistakes. Whatever, but I don't like being called stupid, like I'm not smart [but], I'm not stupid at all."
ADVERTISEMENT - CONTINUE READING BELOW
MO TWISTER, SCAMMER? Mojo also added that part of the reason he left the show was because he could no longer put up with Mo's "fraudulent ways."
He cited an incident in 2009 during a contest on the show called the "KSP Challenge."
"If you look up the KSP Challenge online, the thing was we're supposed to have a P500,000 [cash prize] from Smart.
"Parang [the] listener or listeners [that] can get the best attention out of the public will win.
"So like iyong first place is P150,000, then iyong second place P250,000, and so on and so forth, parang gano'n."
The contest attracted a lot of entries, according to Mojo, and reached a point where they had already chosen the top finalists.
"They spent so much money and so much time and stuff. They gave Mo Twister and Good Times a lot of entries online.
"Meron doon isang laser light show, they snuck into Home Depot at The Fort and they did a live laser light show and they almost got caught, ganyan.
"So what happened was, [on the final week of the contest] we invited only the [top] two because we didn't know who the third one [would] be.
"So on Thursday, we were supposed to announce the winner and like, si Mo is the one in charge of everything.
"But on Monday, parang may excuses pa [siyang ibinibigay], until [the awarding] never happened.
"And the reason I'm so pissed off is because these kids spent so much time and effort, and they're fans of the show and then we didn't give them the money; parang what happened there?"
ADVERTISEMENT - CONTINUE READING BELOW
Mojo said he was never made aware of the process that went on behind the contest.
He didn't even know whether the cash prize from the contest sponsor had been forwarded to the station for the awarding.
"I have no idea. Maybe directly [binigay] kay Mo.
"We don't know exactly kasi si Mohan magaling siya mag-cover up or mag-whatever so I wouldn't know," Mojo said.
He also cited another contest wherein the prizes, which consisted of air conditioners, were reporedly never sent to the winners.
"We had a Father's Day promo for three air conditioners.
"We're promoting it for like a month and then come Father's Day, we didn't do the promo. We didn't give [them] away.
"Tapos iyong thing is, I found out that he had a brand new condo and then three air conditioners were delivered to his house.
"So I'm like, 'Oh my gosh, parang he's using the listeners for his own gain.'"
AMIEL CABANLIG DEFENDS. Mojo Jojo's boyfriend, Amiel Cabanlig, founder of the blog site, Doña Victorina, called PEP on April 26 and shared the same sentiments about Mo Twister.
In a phone interview, Amiel said, "I don't know why this Mo Twister gets away with all these crimes.
"Everything he does, he gets away with it. And then kawawa naman all these DJs who cannot talk like Mojo, like Grace [Lee].
"Like, [Mo] smothers [his issues] with other issues like PNoy [dating Grace] and kung anu-anong issue.
ADVERTISEMENT - CONTINUE READING BELOW
"Bottom line...the problem is Mo Twister. That's from my perspective," Amiel said.
"Being with Mojo, I know. I know this is the problem, not anything else.
"Not being tardy, [not] being late or anything else. That's the only problem."
MO'S "ABORTION" VIDEO NEVER STOLEN? Aside from affirming the story of Mojo Jojo's departure from Good Times, Amiel also revealed to PEP what he knows about Mo Twister's now infamous video diary wherein he talked about his ex-girlfriend Rhian Ramos's alleged decision to have an abortion.
(CLICK HERE to read related story)
"Ito ha, this is a fact. You know, the first person he asked na i-release 'yong tape nila ni Rhian was Doña Victorina [website], and we have this on record," he said.
"That abortion thing, they first approached [us], because we have a Victorina Council, he first approached us to release this.
"We said no, kasi why will we release, e, it's meant to destroy that woman, that poor girl? So why will we even bother this person?
"Tapos ngayon, he tries to make it appear na it's been stolen or ano."
"And please don't trust Mo Twister. He's a congenital liar. He's been lying all his life!" Amiel said.
MO ANSWERS. On May 1, PEP was able to contact the now New York-based Mo Twister via Skype and he answered the allegations thrown at him by his former colleague and his boyfriend.
Stay tuned to PEP for the second part of this story…
ADVERTISEMENT - CONTINUE READING BELOW