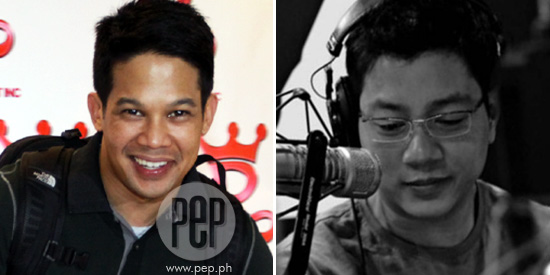 ---
Through a Skype conversation with PEP.ph (Philippine Entertainment Portal) on May 1, controversial DJ Mo Twister answered the allegations thrown against him by his former co-host, DJ Mojo Jojo a.k.a. Joseph Javier, and his boyfriend Amiel Cabanlig.
(CLICK HERE to read Part 1)
Mojo claimed that Mo had allegedly committed fraud on the radio program Good Times on Magic 89.9.
Mojo further claimed that he had been verbally and physically abused by Mo during their stint together on the show.
THE "MISSING" CONTEST PRIZES. The conversation began with Mo telling PEP what happened with the KSP Challenge and the P500,000 cash prize that was purportedly never received by the winners of the contest.
He recounted, "We were supposed to have a game where the prize was going to be P500,000 cash, where contestants [were] supposed to promote the show.
"So, it was a game by our sponsor, the ad agency that was putting it up and then, of course, our show.
"The problem with the game was that the voting software that was used was susceptible to attack and the...contestants were getting, like, the votes were being altered or something like that from an outside source.
"That's what we were thinking because the numbers weren't accurate to the voting process.
"Basta, there was a problem with the voting software from what I recall, I'm pretty sure that's how it went.
"So it was kind of impossible to award a rightfully chosen contestant because of that so what we decided was to reconstruct the software and eventually redo the contest at another date when we could get a cheat-proof voting system in place.
ADVERTISEMENT - CONTINUE READING BELOW
"But we never really kind of redid the game again, probably because we couldn't find a software that wasn't susceptible to attack or I don't know, it was kind of technical."
Contrary to Mojo Jojo's statement in the previous article, Mo said the contestants were informed about the situation and that the matter was even discussed on air several times.
With regards to the missing cash prize, Mo said, "The thing is, it's impossible to pocket any money there because these things go through a process where there's a paper trail."
He explained that in an on-air contest, there are four entities involved: the sponsor, the ad agency, the station management, and the show's hosts.
"Like any large company or responsible organization would do, may finance department iyon, may accounting department, and that's just on the sponsor.
"Tapos these companies have ad agencies that oversee the entire project.
"So if you want to cheat all of that, you have to make sure that you have to take money and all four accounting [departments] [would have] to be fooled.
"So it's impossible—you can't do it, you can't pull it off."
ASK MOJO JOJO. Mo also clarified that he was not entirely in charge of the contests on their show.
"The great irony [in] all of this is if any of the contestants missed a prize or anything like that, it's Mojo who's in charge of prizes," he said.
ADVERTISEMENT - CONTINUE READING BELOW
"If anybody [had missed] a prize, it's actually Mojo you have to contact kasi siya iyong may mga hawak ng prizes.
"I understand, being the main figure of the program, [that's why I get the blame].
"But Mojo should be accountable for any of the mistakes, if there [were] any, and not all of us as a group or kind of like individually, just because I'm the, you know, maybe the leader of the show.
"Mojo's in charge of the prizes. Any contestant, any caller, any listener, you ask them, '[Kanino] ba talaga pini-pick up iyong mga prizes for our show?'
"It's always been Mojo. It's never been me because I'm always too busy for these things.
"So whether it's air conditioner, cellphone or whatever that is, if someone didn't get [his] prize, it's Mojo's [responsibility] because he handles the prizes. That is his role on our show."
PHYSICAL ABUSE. Mo also answered the allegation that he had been physically abusive to his former radio partner.
According to Mojo's statement, besides verbal abuse, Mo had allegedly thrown things at him like a phone unit.
Mo explained, "Well, if he lasted six years in the program and I was physically abusive to him, I think he would've left, way long ago.
"I think [he] called me abusive [because] it's a good time to say that because of, I guess, the past issues or more recent issues that I've gone through," he said pertaining to his failed relationship with ex-girlfriend Rhian Ramos.
ADVERTISEMENT - CONTINUE READING BELOW
But did he ever try to hurt Mojo physically?
"The show is very aggressive so we're known to be verbally aggressive towards each other, towards the callers.
"Not just me to Mojo. It's Mojo to me, Mojo to callers, me to callers, callers to us. Parang it goes every way.
"Some are good at it, some, you know, maybe the girls are not as good at it as much...but it's the nature of the show.
"Mojo has never had a problem with the aggressive style [of the show] for the past six years.
"But as everything goes here in show business, when you're no longer in the program, miraculously you have a problem with it.
"So it's kind of hypocritical, but iyong mga throwing of objects like pencils, folders, pens, mga ganyan, it's within the aggressive style of the show.
"On paper it sounds wrong, but when you're there, no one has a problem with it.
"Like si Mojo naghagis ng tae sa akin. I don't have a problem with it. Naghagis siya ng mga folders, ballpen, no problem. Binaril ko siya ng paint ball gun kasi may bet kami, he's fine with that.
"The only time na binato ko siya ng, I don't know if that's a phone box or something, kasi may sinabi siya tungkol sa mga tao sa Samar, iyong province ng Samar.
"Sabi niya, parang he called them savages or something kasi sobrang palpak daw ang province ng Samar.
ADVERTISEMENT - CONTINUE READING BELOW
"So when he said that, medyo na-offend ako for the people of Samar. So to even up on him, I said on air, 'Dapat persona non grata si Mojo sa Samar kasi tinawag [niya silang] savages.'
"And like in Palawan, naghahagis siya ng sigarilyo sa street so nagagalit iyong mga tao.
"So kinukuwento ko lang on air parang, 'Ba't gano'n ka sa mga kaaway mo sa Samar, sa Palawan?' things like that.
"And you know, iyong hagis it's not like aiming for the head or to hurt him. It's like to say na, 'Hoy, bastos iyan' or 'That's very offensive. Apologize on air,' just to get his attention [because] he can't say all these things.
"And if that's physically abusive...well we're all guilty of it because we've all thrown a pen at each other, we've all thrown a folder.
"And like I said, naghagis pa nga siya ng tae sa akin and I have no problem with it through the years.
"But I understand why now, when he's off from the program, why he's saying things like that because it's typical for something like this to happen."
NEVER IN GOOD TERMS WITH AMIEL. Throughout the conversation, Mo emphasized that he understands where his former partner is coming from.
He said, "I understand naman siguro Amiel and Mojo's frustration with not being on our show anymore. I mean, it's a nationwide program."
But he also reiterated, what he said on his show on February 16, his belief that Amiel had something to do with Mojo's actions.
ADVERTISEMENT - CONTINUE READING BELOW
"Well, here's my thing, I know why Amiel's mad at me.
"He runs this blog that is a crappy attempt at being a political blog and I remember in May, of the election in 2010, I found out that they were campaigning for a Quezon City political aspirant.
"Sila ni Mojo were being paid under the table to use our program to push these Quezon City politicians.
"So, naturally, I was upset. I mean, I guess honestly, we all have our political biases, but to blatantly plug on the show is something that we kind of frowned upon.
"So aside from reminding him off air na, 'O, you can't do that, you can't take money from politicians and then plug them on air,' I would defend our stand about it.
"[I'd say] like, 'I'm not gonna tolerate this level of graft going on in the show. I know you guys are being paid. I'm gonna contradict your statement about these Quezon City guys.'
"So naturally, Amiel was unhappy about it because that was kind of the sideline that he had.
"And when this candidate lost, medyo natawa na lang ako so I think that's the number one reason why Amiel has been rather upset with me.
"And there have been several occasions like Mojo would come to the show, you know, medyo nabugbog siya.
"He would always say, 'Oh, it's because Amiel got mad last night, Amiel got [physical],' you know, gumaganyan siya na parang binubugbog daw siya ng boyfriend niya.
ADVERTISEMENT - CONTINUE READING BELOW
"So paminsan-minsan on air sinasabi ko, 'Kung hindi lang binubugbog ng boyfriend mo.'
"You know, it's a very honest program. It's a program where we kind of talk about our issues...You know how it works.
"The show's very aggressive so I think what happened there is Amiel has been rather upset about how bino-broadcast namin na binubugbbog daw si Mojo.
"And actually, Mojo comes to the show, you know, medyo distraught, disarrayed, and we feel bad for him because Amiel has been tough on him."
THE REASON BEHIND MOJO'S DEPARTURE. Once again, Mo explained the reason behind Mojo's removal from the program.
"From what I recall, and I know one other issue Amiel and Mojo were bringing up, was that I was giving away Blackberry phones to the DJs.
"This is the reason why Mojo was removed from the program because [they wrote in their blog that] I was giving away Blackberry phones with tracking devices on them so I [would] know their whereabouts.
"First of all, I don't even know of any tracking device that you can attach internally on a Blackberry phone. So, if there is one, I'm uninformed.
"And secondly, I don't know why they think that I would want to know their whereabouts.
"I rarely go out with the group, so I don't know what part of their lives is so interesting to me that I need to know their location.
"I think it's a bit narcissistic for Mojo to believe that I care about where he spends his afternoons and where he goes everyday.
ADVERTISEMENT - CONTINUE READING BELOW
"...Tracking someone without their knowledge kind of sounds illegal, but I'm not sure if that's correct or not, it just sounds wrong.
"So, Mojo was urged to leave our program after Mojo published this issue about the Blackberry phones.
"And again the great irony of all of this is Mojo's in charge of the prizes."
Also, Mo reaffirmed his previous statement that Mojo's constant tardiness and attitude towards work contributed to the station management's assessment that he needed to be removed from both the program and station.
"I just want to reiterate that Mojo had been suspended from the program several times.
"He's been suspended for conduct detrimental to our show, to our station.
"He's been suspended for his horrendous attendance record, which all of our listeners know about. That was why management asked him to go.
"You're right. Maybe fired wasn't the right term, it's reassigned, you're reassigned lang to another station.
"He didn't resign from our program. I spoke to the management, I said, 'Listen there's an issue now about Blackberry phones. We've suspended him several times before but this is medyo too much. We need to move him somewhere else.'
"And that's it. I mean, that's really how [it happened]."
"I CARE ABOUT MOJO." On a final note about Mojo, Mo said he feels sad that he had to part ways with his former colleague in such bad terms.
"It's sad because I really do like Mojo a lot. It's bad that he's been, I guess, associated with his boyfriend and I feel, and the station feels, that a lot of the problems we had with Mojo stems from Amiel.
ADVERTISEMENT - CONTINUE READING BELOW
"It's sad because we all generally do like Mojo very much. And in a perfect world, I would love to still have him on the show.
"It's just si Amiel, whether it be controlling Mojo—like I said, si Mojo pumupunta sa show umiiyak, nabugbog, mga ganyan—it's sad to see him in that relationship.
"And like I said myself and the station—I don't want to speak for them but, well, they've all felt the same way—that this relationship, this love-hate relationship that Mojo and I have had, so much of it stems from a lot of the issues that Mojo has with his boyfriend Amiel."
DID MO ASK THEM TO UPLOAD VIDEO? As a parting question, we also asked Mo to comment on Amiel's claim that his video, wherein Mo talked about the abortion procedure of his ex-girlfriend Rhian Ramos, was never stolen.
Mo said, "Okay, the video, well it seems to me there's a popular notion about how the video came out and there's the real reason of how it came out.
"Whichever people believe, honestly love, I don't care. It was a very tragic moment in my life.
"Something horribly wrong happened and on another occasion, on a second occasion, something illegal happened.
"And this is something in my personal family life. Whatever theory people have about the video, how it was uploaded, I don't care what people think because it's far less painful than what happened.
ADVERTISEMENT - CONTINUE READING BELOW
"You understand? Parang I don't care what Amiel thinks happened. I don't care what anybody thinks of what happened to the video.
"The video is just a video. What happened to me and what happened to our situation several times where we lost a child, children, that's far worse than any stupid career-damaging video that everyone thinks I uploaded.
"I don't know who uploaded the video.
"I knew of several videos about the abortion process that was made that's no longer in my possession.
"I know that I gave these copies to several people and I know this because their lawyers were present when I gave it to them and it happened over a year ago.
"So, I will never in my life approach Amiel for Mojo to inform the public of anything regarding my private life.
"I don't need Doña Victorina [Amiel and Mojo's blog site] to broadcast any aspect of my private life. I don't even know that a Victorina council exists!
"Like I said, I'm not a political figure that needs to pay them for their marginal services.
"We've already had this problem with their blog, with their politician.
"Their Internet circulation is laughable so if I need to inform the public about anything, I have my radio show.
"I don't need them. I have a radio show and I can always e-mail you guys at PEP. And if you agree, I'd be happier if you come out with something instead of them because no one reads them.
ADVERTISEMENT - CONTINUE READING BELOW
"It's stupid to think that I would approach Amiel to talk about anything in my life, not just the video. I wouldn't approach him for anything.
"He has used my show for a politician with no chance of winning and he'd use it for sponsors and stuff like that without even telling me; and they get paid under the table for it.
"It's crazy! I don't even have Amiel's cellphone number.
"We've always disliked each other for years. I never appreciated him beating up my radio partner Mojo. I didn't appreciate, you know, all the fighting that they did because it hurt our program.
"Mojo would miss days [of] work because of their fighting. He would be late constantly because of their fighting.
"Even if we had to suspend him, even when the radio station [asked] me 'Should we fire him?' I would always save Mojo because he's my partner.
"So, it's really, really sad to see it get to this point. And I understand why, you know. Mojo is really just following whatever Amiel says.
"I feel bad for Mojo because he's sick right now. It's unfortunate because I do care about him very much."