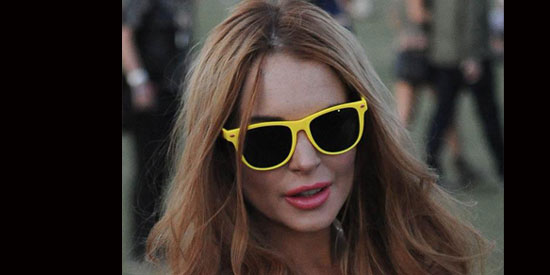 ---
Lindsay Lohan has reunited with Samantha Ronson.
The 25-year-old actress was seen getting cozy with her ex-girlfriend—who she dated for two years from 2007 to 2009 before briefly getting back together last year—at New York nightclub Le Baron earlier this week, and reportedly ''couldn't get enough of each other'' while partying the night away.
A source told X17 Online: ''Lindsay and Sam were whispering and laughing and they left the club holding hands. They didn't care who saw them and they definitely seem to be back on. It was just like the old days, they couldn't get enough of each other!''
Bisexual Lindsay, who recently landed the role of the late Dame Elizabeth Taylor in a new TV movie Liz and Dick, was linked to photographer Terry Richardson and porn star Alex Torres in March, but was believed to be trying to stay single so she could focus on her part.

A source said: ''Lindsay wants to devote all her spare time to reading the script and getting Liz's persona down pat rather than focus on a new relationship.''
SHARE THIS STORY Lindsay Lohan reunites with ex-girlfriend Samantha Ronson" data-url="https://www.pep.ph/news/33970/lindsay-lohan-reunites-with-ex-girlfriend-samantha-ronson" data-desc="A source says: "It was just like the old days, they couldn't get enough of each other!'&a" data-image="https://contents.pep.ph/images2/news/305109a1b.jpg"> Lindsay Lohan reunites with ex-girlfriend Samantha Ronson" data-url="https://www.pep.ph/news/33970/lindsay-lohan-reunites-with-ex-girlfriend-samantha-ronson" data-desc="A source says: "It was just like the old days, they couldn't get enough of each other!'&a" data-image="https://contents.pep.ph/images2/news/305109a1b.jpg"> Lindsay Lohan reunites with ex-girlfriend Samantha Ronson" data-url="https://www.pep.ph/news/33970/lindsay-lohan-reunites-with-ex-girlfriend-samantha-ronson" data-desc="A source says: "It was just like the old days, they couldn't get enough of each other!'&a" data-image="https://contents.pep.ph/images2/news/305109a1b.jpg">
SHARE THIS STORY
Lindsay Lohan reunites with ex-girlfriend Samantha Ronson" data-url="https://www.pep.ph/news/33970/lindsay-lohan-reunites-with-ex-girlfriend-samantha-ronson" data-desc="A source says: "It was just like the old days, they couldn't get enough of each other!'&a" data-image="https://contents.pep.ph/images2/news/305109a1b.jpg"> Lindsay Lohan reunites with ex-girlfriend Samantha Ronson" data-url="https://www.pep.ph/news/33970/lindsay-lohan-reunites-with-ex-girlfriend-samantha-ronson" data-desc="A source says: "It was just like the old days, they couldn't get enough of each other!'&a" data-image="https://contents.pep.ph/images2/news/305109a1b.jpg"> Lindsay Lohan reunites with ex-girlfriend Samantha Ronson" data-url="https://www.pep.ph/news/33970/lindsay-lohan-reunites-with-ex-girlfriend-samantha-ronson" data-desc="A source says: "It was just like the old days, they couldn't get enough of each other!'&a" data-image="https://contents.pep.ph/images2/news/305109a1b.jpg"> Lindsay Lohan reunites with ex-girlfriend Samantha Ronson" data-url="https://www.pep.ph/news/33970/lindsay-lohan-reunites-with-ex-girlfriend-samantha-ronson" data-desc="A source says: "It was just like the old days, they couldn't get enough of each other!'&a" data-image="https://contents.pep.ph/images2/news/305109a1b.jpg">