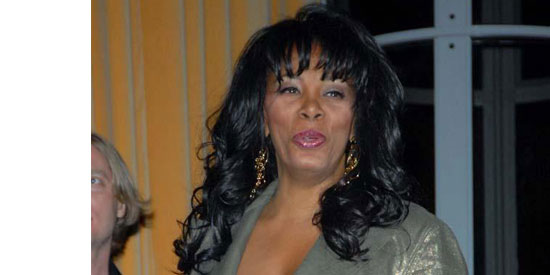 ---
Donna Summer's family are ''at peace'' celebrating the late singer's legacy.
The 63-year-old singer passed away this morning (May 17) after battling cancer and her family—husband Bruce Sudano, three daughters, and four grandchildren—have thanked fans for their well-wishes following the news.
They said in a statement: ''Early this morning, we lost Donna Summer Sudano, a woman of many gifts, the greatest being her faith.
''While we grieve her passing, we are at peace celebrating her extraordinary life and her continued legacy.
''Words truly can't express how much we appreciate your prayers and love for our family at this sensitive time.''
A host of stars have paid tribute to the five-time Grammy award winner.
Producer Pete Waterman, who worked with her in the 1980s, praised her as ''inspirational'' and ''unique."
He told BBC News: ''She was the icing on the cake. We were at the top of our game when we worked with her. She was just fantastic.
''Donna was unique. Donna did things Donna's way. One of the first things she said to me was, when you work with me, you work on Donna time... She wasn't a diva, she was inspirational. Her talent came from God, she knew she couldn't just turn it on.''
Kylie Minogue described the "I Feel Love" hitmaker as ''one of my earliest musical inspirations," while Mary J. Blige described her as ''truly a game changer."
Music producer Quincy Jones described Donna as the ''soundtrack to a decade'' in a twitter tribute.
ADVERTISEMENT - CONTINUE READING BELOW
He wrote: ''Rest in Peace dear Donna Summer. Your voice was the heartbeat and soundtrack of a decade.''
Talk show host Ellen DeGeneres admitted she was ''so sad'' over the news.
She wrote: ''I'm so sad about the news that Donna Summer died this morning. I was a big fan. I even used one of her songs in my show that airs today.''