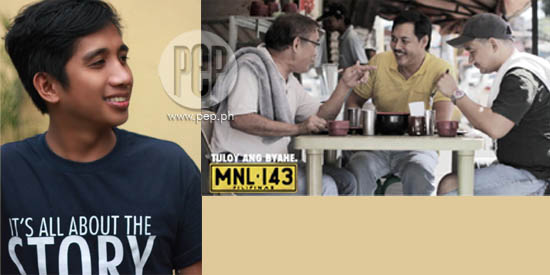 ---
After his controversial disqualification from the 8th Cinemalaya Philippine Independent Film Festival, young director Emerson Reyes announced on May 30 through his Facebook account that his film MNL 143 will have its world premiere at the 66th Edinburgh International Film Festival (EIFF).
Last Saturday, June 2, PEP (Philippine Entertainment Portal) was able to interview Emerson via e-mail, wherein he expressed his excitement for the film's upcoming release and answered some questions about his film's journey from Manila to Scotland.
SHOOTING MNL 143. Despite the ordeal he went through with Cinemalaya's organizing committee in February, Emerson was still determined to finish his first full-length film.
As the media frenzy on his tension with the festival organizers began to die down, so did he continue working on the film.
"We shot the film for six days," he said.
"Post-production was a breeze, given that we have a great post-production team.
"We finished the entire film in less than a month.
"I cannot be more thankful because our cast and crew have the same passion and dedication to make MNL 143 even better than I have envisioned it."
Originally, Emerson intended to work on the movie using the supposed Php 500,000 seed grant from Cinemalaya.
And as if the drama behind his disqualification was not enough, sourcing for funds to produce his film became his next big obstacle.
"We didn't have sufficient funds to even start a movie. We planned to shoot this film from the supposedly seed grant which is 500,000.
"When that didn't push through, we [had] to be creative to find ways how to fund the film.
"[Thankfully], close friends and colleagues from the industry gave support so we can start production. We also had fundraising projects with ArtisteConnect.
"I am also grateful for the full support from Voyage Studios, a studio that produced internationally acclaimed films, and also Liquidpost who gave us great support for our sound needs.
ADVERTISEMENT - CONTINUE READING BELOW
"The production staff from Barong Tagalog and Dogtown Studios also worked very hard out of love for their craft," Emerson said.
It did not take long before cameras started rolling for MNL 143.
The film was shot on location in various spots within Manila, and the set, as Emerson described it, was like "a dream come true."
"Yes, we have great challenges and pressure to come up with a great film.
"However, the entire cast and crew work so perfectly simply because we love the story. Everything just blended perfectly together.
"It was physically tiring because we can't shoot without the sunlight since the time frame of the film is three hours.
"We also had technical problems, but I have a good team so we find solutions.
"We remained happy and calm throughout the shoot. I only shout to announce 'kainan na.'"
WORKING WITH ALAN PAULE AND JOY VIADO. Emerson was able to fulfill his wish of casting Alan Paule and Joy Viado to play the lead characters in the film—the reason why his film was disqualified from Cinemalaya in the first place.
In a previous chat, he even described the two actors as "perfect for their roles" and "very pleasant to work with."
He even noted that Alan would sometimes volunteer to be the crew's driver as they transferred from one location to another.
At the time of the interview, Emerson said that both actors have yet to see the final product of their labor and he is looking forward to hear their reaction about the film.
"But I have to say this, fighting for them was 100 percent worth it.
"I cannot imagine any other actors playing their roles," he said.
ROAD TO EDINBURGH. On June 24, MNL 143 will premiere at the Filmhouse Independent Cinema in Scotland as part of the Philippine New Wave showcase of the EIFF.
ADVERTISEMENT - CONTINUE READING BELOW
Emerson said it was through the help of experimental filmmaker Khavn dela Cruz—director of Mondomanila and Philippine New Wave: This Is Not A Film Movement, which will also be screened at Edinburgh—that he was able to land this international gig.
Asked if he had chosen an international premiere to spite at Cinemalaya, Emerson humbly said, "We're not really thinking about Cinemalaya anymore.
"We simply wanted to share MNL 143 to everyone as fast as we can.
"We're already done with the film so, why wait?
"I'm thankful to the Edinburgh International Film Festival for providing us the venue to premiere our film."
He also added that he is hoping to land an international distribution deal for his film while in Scotland.
At this point, does he have expectations about how the film will turn out at the Edinburgh Festival?
"As cliché as it may sound, I just want to share MNL 143 to the world starting at Edinburgh."
ON CINEMALAYA. Finally, PEP asked Emerson to comment on the press release sent by Cinemalaya on May 25, wherein a concise explanation about the disqualification issue was written.
The young filmmaker had this to say:
"I respect Mr. Tonyboy Cojuangco so much for all of his contribution to his festival. However, I believe he was given false information by the Cinemalaya organizers regarding MNL 143.
"First, there is no rule in our MOA [Memorandum Of Agreement] regarding submitting test videos.
"Second, we were disqualified even before we can submit test footage with my preferred actors.
"Simply put, the Cinemalaya organizers didn't give me the chance to fight for my film.
"I believe the main reason why the issue has exploded is because it finally exposed what Robbie Tan and Laurice Guillen have been doing to young filmmakers ever since Cinemalaya started.
ADVERTISEMENT - CONTINUE READING BELOW
"The festival has been successful because of the passion, dedication and unwavering support of Filipino filmmakers to push Filipino films forward.
"I'm very happy MNL 143 was made because of that."
MNL 143 will have its Philippine premiere on July 7 at the University of the Philippines Film Institute's Cine Adarna in Diliman, Quezon City.
Schedules for local school screenings will be announced soon.