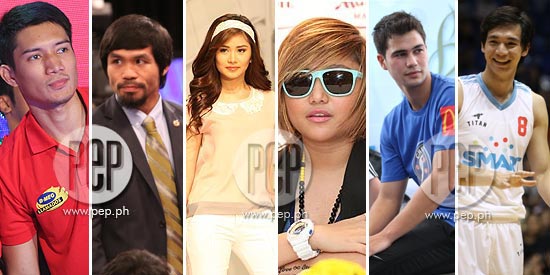 ---
Pop Princess Sarah Geronimo is the most popular singer among 7- to 14–year-old Filipinos today.
"New Generations Philippines 2012," conducted by cable channel Cartoon Network, reveals that the 24-year-old singer-actress is more popular than YouTube sensation Charice Pempengco and international pop star Justin Bieber.
Charice and Justin both rank second in the survey, followed by Grammy Award-winning artists Taylor Swift and Bruno Mars, who place fourth and fifth respectively.
Meanwhile, NBA superstar Kobe Bryant of the Los Angeles Lakers is the most popular sports personality among Filipino kids.
The People's Champ, Manny "Pacman" Pacquiao, comes in second as NBA legend Michael Jordan remains a prominent name among the Filipino kids.
They also favor PBA star player James Yap of the B-Meg Llamados, Smart Gilas' Chris Tiu, and Azkals football player Phil Younghusband—all of whom place fourth in the survey conducted from February 25 to March 26 of this year.
"The New Generations 2012" is part and parcel of Cartoon Networks' efforts to keep track of kids' lifestyle, opinion, and behavior as they are influenced by their relationships with technology, the media, and role models.
The New Generations 2012 survey is the fifth of the fully-localized research about Filipino kids with prior studies conducted in 2003, 2005, 2007, and 2009.
MEDIA HABITS. The results of the survey were based on in-home face-to-face interviews with 1,000 Filipino kids, aged 7 to 14 years old, who were randomly selected from Metro Manila, Cebu, and Davao. It covers socio-economic classes A, B, C, and D.
According to the survey, Filipino kids' top six "media habits" include watching the television (99 percent), accessing the internet (76 percent), reading books (70 percent), listening to music (53 percent), watching DVDs (49 percent), and listening to the radio (40 percent).
Kids likewise spend time reading the newspaper (13 percent), comics (11 percent), and magazines (9 percent).