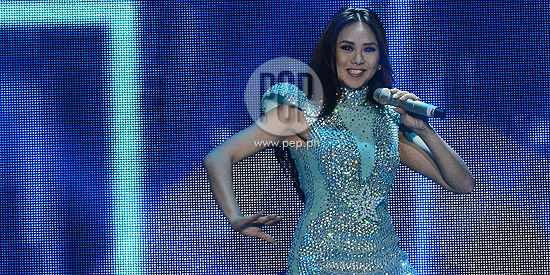 ---
Popstar Princess Sarah Geronimo revealed three birthday wishes on the first night of her two-night birthday concert at the Smart-Araneta Coliseum last night, July 7.
During her birthday concert dubbed 24/SG, Sarah invited the audience to enter her dream.
Here, a wicked witch, played by comedy actor Jon Santos, gave her three wishes. She was warned, however, that if these three wishes do not come true, she would forever be damned in her beautiful nightmare.
This signalled the start of a three-hour entertainment program by the singer-dancer, who will turn 24 on July 25.
Sarah dramatically appeared on stage on a hydraulic lift while singing the slow version of Beyonce's Sweet Dream.
She wore a two-piece, brocade cloak over a dress embellished with Swarovski stones. Her outfit was designed by Dubai-based Filipino designer Furne One.
In her second song, Eurythmics's "Sweet Dream," Sarah danced in time with the computer-generated background. She also removed her cloak, revealing her sexy outfit.
There was a slight problem removing her lapel mic, but she went on with her next number, Rihanna's "Where Have You Been," which she performed with the G-Force dancers.
The strobe lights on the stage helped set the party mood of the concert.
Before formally welcoming her audience to her birthday concert, Sarah sang Adele's "Set Fire to the Rain."
"Happy 14th birthday to me," she announced to the audience in jest.
Sarah explained that she was 14 years old when Viva Artists' big boss, Vic del Rosario, discovered her in the defunct singing talent show, Star for a Night.
Since this was her 24th birthday celebration, she teased her avid fans, "This is my 24th birthday, 24 na ako, pwede na!"
The crowd started to scream; they were thrilled at the thought that Sarah hinted that she was free to be in a romantic relationship. This was everyone's wish for the Popstar Princess.
ADVERTISEMENT - CONTINUE READING BELOW
However, she broke the "kilig" feeling by saying, "Pwede nang maging 25. 'Tapos 26!"
She sang three of her favorite songs which she dedicated to her audience: Coldplay's "The Scientist," The Script's "Breakeven," and Christina Perri's "Jar of Hearts."
The first gap ended with a performance from former Little Big Star contestants Sam Concepcion and Ayen Aguila. The show was then hosted by Sarah.
THE THREE WISHES. The second gap was opened once again by Jon, who imitated Manny Pacquiao's mother, Dionisia.
Channeling the mother of the Pambansang Kamao, he revealed Sarah's three wishes: "Family, freedom, and love." He also swore to help Sarah fulfill her three wishes by getting help from other mothers.
Sarah returned on stage wearing another creation by Furne, a baby pink outfit, with flowing French tulle, studded with Swarovski crystals.
She sang a popular song from the Broadway musical, Dreamgirls, titled "And I am Telling You."
Then, she seamlessly sang a medley of her hit songs: "Forever's Not Enough," "Sino Nga Ba Siya," and "How Could You Say You Love Me" with The Company.
The vocal ensemble also performed their lively version of Lady Gaga's "Edge of Glory."
WISH FOR THE FAMILY. Comedian Jon returned on stage imitating another popular personality, showbiz mom Annabelle Rama. He gave advice to Sarah's mom, Mommy Divine, on how to guide a daughter in showbiz.
He said, "Ilayo mo ang mga anak mo sa mga tsismosong Paparazzi. Huwag mong payagang mag-'papa' si Sarah."
There was a collective sigh from the audience sigh on the last tip, since everyone was wishing for a love life for the Popstar Princess.
Sarah went up on stage again, this time, in a turquoise outfit studded with Swarovski crystals.
Her mood was light as she performed '90s songs like "No Scrubs" of TLC, "Mmmbop" of Hanson, and "Wannabe" of Spice Girls.
ADVERTISEMENT - CONTINUE READING BELOW
Sarah did a duet with fellow Viva talent Anton Alvarez and musical icon, Basil Valdes, who made everyone sing the immortal "Hanggang sa Dulo ng Walang Hanggan."
"It's an honor to share the same stage with you," Sarah told Basil who also performed a solo number.
The highlight of this segment was a heartwarming performance of the birthday girl with her father, known to the public as Daddy Delfin.
With his guitar, Daddy Delfin serenaded his daughter. He always accompanied her in singing contests when she was just starting out.
For Sarah, Daddy Delfin is the perfect father and a good husband. If she marries someday, she wishes the guy to have the same qualities as her dad.
FREEDOM. Jon was funniest with his impersonation of Senator Miriam Defensor Santiago.
The audiences laughed so hard when he started speaking in the senator's voice.
"I am not going to allow an evil stepmother get in the way of Sarah's dreams," he said.
However, he reminded Sarah, "There is no such thing as absolute freedom. We have to learn to accept that there are limits, boundaries, to this freedom."
When Sarah came back on stage, she talked about her wardrobe for the concert. She looked stunning in her a yellow outfit studded with Swarovski crystals.
"Hindi ako sanay magsuot ng ganito… fasyon na fasyon!" she said.
She shifted into a serious mood and sang the classic OPM titled "Anak."
Then, Sarah performed Goo Goo Doll's "Iris" with rock star Bamboo. They did a couple of duets on the ABS-CBN Sunday variety show, ASAP, before Sarah got her own Sunday evening show, Sarah G Live!
LOVE. The last fairy godmother that Jon imitated was the mother for all seasons, Vilma Santos.
As Ate Vi, he said the young singer-actress will soon have a special someone in her life.
ADVERTISEMENT - CONTINUE READING BELOW
Jon also asked her fans, collectively known as the Popsters, to always pray for their favorite celebrity.
"Kailangan ng panalangin natin kasi minsan 'yang love-love na 'yan, kasama ng ngiti, mayroon ding lungkot. Kaya't sana'y lagi kayong nariyan para lagi siyang ipanalangin at suportahan," he said.
The audience cheered when Jon claimed that Sarah would have a a special someone this year.
"Well, dahil ganyan ang attitude, positive magkaka-love life siya this year.
"Kung sino man ang hindi naniniwalang magkaka-love life siya this year, panoorin na lang ang pelikula kong Bata, Bata [Paano Ka Ginawa], 'Akala n'yo lang wala pero meron, meron, meron!'"
The kilig moments continued when Sarah went on stage and personally thanked her guests while singing the romantic song, "It Might Be You."
Her guests included fellow singers, Erik Santos and Rachelle Ann Go, Viva Entertainment's big boss Vic del Rosario, and Dr. Vicki Belo, who was seated beside her daughter Cristalle Henares and Vicki's rumored boyfriend, Al Galang.
She also thanked her former movie partner, John Lloyd Cruz, and fellow ASAP performer Maja Salvador.
Of course, Sarah also approached her former onscreen partner Gerald Anderson, whom she once called "Babe" on her show, Sarah G Live!
He watched the whole concert with his younger brother, Kenneth, fellow Pinoy Big Brother housemate Fred Payawan, and talent handler Nhila Mallari.
Fans screamed nonstop for five minutes as they watched Gerald escort Sarah back to the stage.
Sarah wrapped up the show by reminding concert-goers that dreams come true if they believe and surrender everything to God.
She then sang Celine Dion's "I Surrender," Mandy Moore's "Only Hope," and Whitney Houston's "I Look To You."
The final performance left the audience in a happy mood as Sarah and the G Force dancers ended the concert with the dance songs, "'Til The World Ends" and "Overprotective" by Britney Spears, and "Superbass" and "Starships" by Nicki Minaj.
ADVERTISEMENT - CONTINUE READING BELOW
For those who were not able to see the show last night, you can still catch the second night of Sarah's birthday concert at the Smart-Araneta Coliseum on July 21.