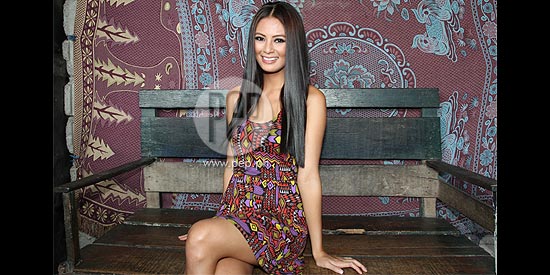 ---
Topping FHM's 100 Sexiest Women of the World twice surely has its perks.
Aside from the four endorsements she bagged, "more people know me now," said Sam Pinto in a phone interview with PEP.ph (Philippine Entertainment Portal) on July 8.
This was never part of her plan. As mentioned in her previous interviews, what she wanted was to become a designer and do some modeling on the side.
Back then, she would have eschewed the "sexy" connotation of hertitle.
"But everything just happened. And it's a good opportunity," she remarked.
How does she manage to look "wholesome"?
Sam answered, "I still have limits. I don't really show everybody everything para may konting mystery pa rin sa akin.
"Kumbaga, yung mga tao, laging may hinahanap dahil hindi ko binibigay lahat."
At present, she's busy with the part two of Agimat— where she will get to work with Judy Ann Santos, and will be paired again with Bong Revilla.

Given the chance to choose, who among the actors would she want to become her leading man?
"Omigosh," was her quick reaction.
After a brief pause, she picked Coco Martin and Sid Lucero.
Sam said, "I look up to them as an actor. At a really young age, na-prove na nila sarili niya.
"Maganda if I have a project with them. It's like... it's going to be challenging."
Lastly, before she walks the runway this July 12, Sam repeats, "I'm very single."
How come?
"Tapusin muna ang FHM. Kapag di ka single kasi, feeling ko may factor sa votes," the sexiest Pinay explained.
She added, half-joking, "Ayoko rin kasi na ma-disappoint ang boys. Baka ma-sad..."
SHARE THIS STORY FHM."" data-url="https://www.pep.ph/news/34807/pep-exclusive-sam-pinto-says-she39s-very-single-tapusin-muna-ang-fhm" data-desc="She has two dream leading men: a Kapamilya and a Kapuso." data-image="https://contents.pep.ph/images2/news/524dc34ac.jpg"> FHM."" data-url="https://www.pep.ph/news/34807/pep-exclusive-sam-pinto-says-she39s-very-single-tapusin-muna-ang-fhm" data-desc="She has two dream leading men: a Kapamilya and a Kapuso." data-image="https://contents.pep.ph/images2/news/524dc34ac.jpg"> FHM."" data-url="https://www.pep.ph/news/34807/pep-exclusive-sam-pinto-says-she39s-very-single-tapusin-muna-ang-fhm" data-desc="She has two dream leading men: a Kapamilya and a Kapuso." data-image="https://contents.pep.ph/images2/news/524dc34ac.jpg">
SHARE THIS STORY
FHM."" data-url="https://www.pep.ph/news/34807/pep-exclusive-sam-pinto-says-she39s-very-single-tapusin-muna-ang-fhm" data-desc="She has two dream leading men: a Kapamilya and a Kapuso." data-image="https://contents.pep.ph/images2/news/524dc34ac.jpg"> FHM."" data-url="https://www.pep.ph/news/34807/pep-exclusive-sam-pinto-says-she39s-very-single-tapusin-muna-ang-fhm" data-desc="She has two dream leading men: a Kapamilya and a Kapuso." data-image="https://contents.pep.ph/images2/news/524dc34ac.jpg"> FHM."" data-url="https://www.pep.ph/news/34807/pep-exclusive-sam-pinto-says-she39s-very-single-tapusin-muna-ang-fhm" data-desc="She has two dream leading men: a Kapamilya and a Kapuso." data-image="https://contents.pep.ph/images2/news/524dc34ac.jpg"> FHM."" data-url="https://www.pep.ph/news/34807/pep-exclusive-sam-pinto-says-she39s-very-single-tapusin-muna-ang-fhm" data-desc="She has two dream leading men: a Kapamilya and a Kapuso." data-image="https://contents.pep.ph/images2/news/524dc34ac.jpg">