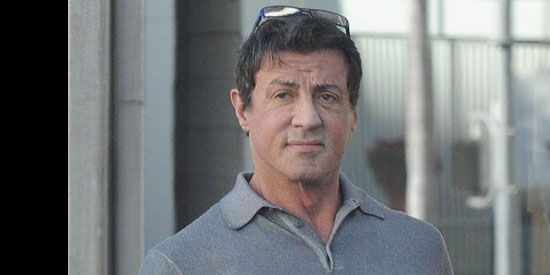 ---
Sylvester Stallone's son has reportedly died of a drug overdose. He was 36.
Sage Stallone was found at his Studio City home on Friday morning (July 13) after he allegedly passed away following an overdose of pills, according to website TMZ.com.
Lawyer George Braunstein would only confirm the death, but said the cause was still under investigation.
He told website LATimes.com: ''We don't have any of the details. He wasn't depressed. He was thinking about getting married. He just had his whole life ahead of him.''
Paramedics were apparently called to the home and pronounced him dead at the scene.
Sources claim authorities are trying to determine if the death was intentional or accidental.
Sage famously made his film debut alongside his father in the 1990 movie Rocky 5—playing the role of Rocky's son, Robert Balboa.
He appeared as an actor in several movies, including some with his father, such as Daylight.
DEVASTATED. Sylvester is ''devastated'' about the death of Sage.
The actor's representative, Michelle Bega, released a statement saying: ''Sylvester Stallone is devastated and grief-stricken over the sudden loss of his son, Sage Stallone. His compassion and thoughts are with Sage's mother, Sasha. Sage was a very talented and wonderful young man. His loss will be felt forever.''
A family friend added that Sylvester is ''overwhelmed and stunned'' by the sudden death of his eldest son.
A source told website RadarOnline.com: ''This came completely out of the blue. Sylvester did not see this coming for one minute.
''Sage was healthy, and Sylvester thought he was doing really well, this came from a complete left field.
The insider added: ''Sylvester was very close to Sage and he is absolutely overwhelmed with grief by his death. He is totally stunned and still in a state of shock.''
ADVERTISEMENT - CONTINUE READING BELOW
He was Sylvester's son from his first marriage to Sasha Czack.
Most recently, Sage appeared in a 2010 movie called Promises Written In Water and a short titled The Agent.
His short-lived marriage to Starlin Wright in May 2007 was annulled after just 10 months.
DEAD FOR SOME TIME. Sage is thought to have been dead for some time before his body was discovered.
He was found unresponsive at his home in Studio City, Los Angeles and although paramedics arrived at the scene at 3:05 p.m., they left again within half-an-hour and the body was taken to the coroner's office rather than the hospital.
A source told RadarOnline: ''I suspect he had been dead for quite a while when he was discovered. Usually, medics will be at the scene for around forty-five minutes but they were out of there within half-an-hour.''
Prescription drugs were reportedly found beside the body. Friends believe it was an accidental overdose.
The source added: ''There were a number of prescription bottles found at the scene but it did not appear to be suicide and no note was found.''
Meanwhile a friend revealed the actor, director and producer was in good spirits just two weeks ago.
The pal said: ''I saw him two weeks ago and he seemed great. He was healthy and upbeat and didn't seem depressed at all.''