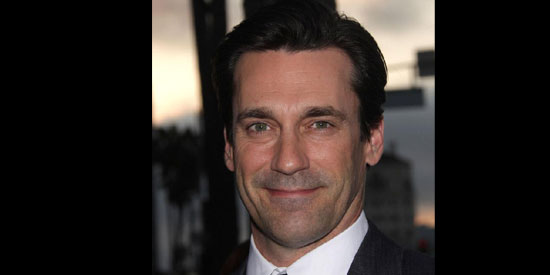 ---
Mad Men and American Horror Story lead the nominations at this year's Emmy Awards with 17 each.
Mad Men, an advertising drama, is hoping to gain its fifth Best Drama win, which would make it the only series ever to have won the accolade that many times.
At present, with four victories, it is level with Hill Street Blues, L.A. Law, and The West Wing.
Other nominees in the same category are Breaking Bad, The Good Wife, Game of Thrones, Boardwalk Empire, British drama Downton Abbey, and newcomer Homeland.
Downton Abbey—which was awarded Best Miniseries in 2011, but has switched categories for 2012—picked up 16 nominations.
Jimmy Kimmel stepped in to announce the nominees at 5.40 a.m. of July 19, in Los Angeles, stepping in for Nick Offerman, who was delayed by weather problems.
As he took to the stage in his pyjamas, alongside actress Kerry Washington, the show host asked: ''Is this a sex dream?''
Jimmy gave the nominations for Outstanding Lead Actor in a Drama Series, which sees Boardwalk Empire star Steve Buscemi face off against Dexter actor Michael C. Hall, Bryan Cranston from Breaking Bad, Hugh Bonneville from Downton Abbey, Mad Men lead Jon Hamm, and Damian Lewis of Homeland.
Lead Actress in a Drama Series pits The Good Wife star Julianna Margulies against Michelle Dockery from Downton Abbey, Elisabeth Moss from Mad Men, Kathy Bates from Harry's Law, Homeland star Claire Danes, and Damages' Glenn Close.
The Outstanding Comedy Series 2012 section was populated by mostly familiar shows, with 30 Rock, Curb Your Enthusiasm, Modern Family, and The Big Bang Theory all picking up nods, joined by newcomers Girls and Veep.
Jimmy will also host the Emmy awards at the Nokia Theater in Los Angeles on September 23, which will also be broadcast live.
2012 Emmy Awards nominations:
Best Comedy
The Big Bang Theory
Curb Your Enthusiasm
Girls
Modern Family
30 Rock
Veep
ADVERTISEMENT - CONTINUE READING BELOW
Best Drama
Boardwalk Empire
Breaking Bad
Downton Abbey
Game of Thrones
Homeland
Mad Men
Lead Actress in a Drama
Kathy Bates, Harry's Law
Glenn Close, Damages
Claire Danes, Homeland
Julianna Margulies, The Good Wife
Michelle Dockery, Downton Abbey
Elisabeth Moss, Mad Men
Lead Actor in a Drama
Hugh Bonneville, Downton Abbey
Steve Buscemi, Boardwalk Empire
Bryan Cranston, Breaking Bad
Jon Hamm, Mad Men
Damian Lewis, Homeland
Michael C. Hall, Dexter
Lead Actress in a Comedy
Zooey Deschanel, New Girl
Lena Dunham, Girls
Edie Falco, Nurse Jackie
Tina Fey, 30 Rock
Julia Louis-Dreyfus, Veep
Melissa McCarthy, Mike & Molly
Amy Poehler, Parks and Recreation
Lead Actor in a Comedy
Alec Baldwin, 30 Rock
Don Cheadle, House of Lies
Louis C.K., Louie
Jon Cryer, Two and a Half Men
Larry David, Curb Your Enthusiasm
Jim Parsons, The Big Bang Theory
Best Supporting Actress, Comedy
Mayim Bialik, The Big Bang Theory
Kathryn Joosten, Desperate Housewives
Julie Bowen, Modern Family
Sofia Vergara, Modern Family
Merritt Wever, Nurse Jackie
Kristen Wiig, Saturday Night Live
Best Supporting Actor, Comedy
Ed O'Neill, Modern Family
Jesse Tyler Ferguson, Modern Family
Ty Burrell, Modern Family
Eric Stonestreet, Modern Family
Max Greenfield, New Girl
Bill Hader, Saturday Night Live
Best Supporting Actress, Drama
Anna Gunn, Breaking Bad
Maggie Smith, Downton Abbey
Joanne Froggatt, Downton Abbey
Archie Panjabi, The Good Wife
Christine Baranski, The Good Wife
Christina Hendricks, Mad Men
Best Supporting Actor, Drama
Aaron Paul, Breaking Bad
Giancarlo Esposito, Breaking Bad
Brendan Coyle, Downton Abbey
Jim Carter, Downton Abbey
Peter Dinklage, Game of Thrones
Jared Harris, Mad Men
Best Miniseries or Movie
Game Change
American Horror Story
Hatfield & McCoys
Hemingway & Gellhorn
Luther
Sherlock: A Scandal in Belgravia
Best Variety Series
The Colbert Report
The Daily Show With Jon Stewart
Jimmy Kimmel Live
Late Night With Jimmy Fallon
Real Time With Bill Maher
Saturday Night Live
ADVERTISEMENT - CONTINUE READING BELOW
Best Animated Program
American Dad
Bob's Burgers
Futurama
The Penguins Of Madagascar: The Return Of The Revenge Of Dr. Blowhole
The Simpsons
Best Competition Reality Show
The Amazing Race
Dancing with the Stars
Project Runway
So You Think You Can Dance
The Voice
Top Chef
Best Non-Competition Reality Program
Antiques Roadshow
Jamie Oliver's Food Revolution
MythBusters
Shark Tank
Undercover Boss
Who Do You Think You Are?
Best Reality Show Host
Phil Keoghan, The Amazing Race
Ryan Seacrest, American Idol
Betty White, Betty White's Off Their Rockers
Tom Bergeron, Dancing With The Stars
Cat Deeley, So You Think You Can Dance
Best Guest Actress in a Comedy
Dot-Marie Jones, Glee
Maya Rudolph, Saturday Night Live
Melissa McCarthy, Saturday Night Live
Elizabeth Banks, 30 Rock
Margaret Cho, 30 Rock
Kathy Bates, Two and a Half Men
Best Guest Actor in a Comedy
Michael J. Fox, Curb Your Enthusiasm
Greg Kinnear, Modern Family
Bobby Cannavale, Nurse Jackie
Jimmy Fallon, Saturday Night Live
Will Arnett, 30 Rock
Jon Hamm, 30 Rock
Best Guest Actress in a Drama
Martha Plimpton, The Good Wife
Loretta Devine, Grey's Anatomy
Jean Smart, Harry's Law
Julia Ormond, Mad Men
Joan Cusack, Shameless
Uma Thurman, Smash
Best Guest Actor in a Drama Series
Mark Margolis, Breaking Bad
Dylan Baker, The Good Wife
Michael J. Fox, The Good Wife
Dickie Bennett, Justified
Ben Feldman, Mad Men
Jason Ritter, Parenthood
Best Lead Actress in a Miniseries or Movie
Connie Britton, American Horror Story
Julianne Moore, Game Change
Nicole Kidman, Hemingway & Gellhorn
Ashley Judd, Missing
Emma Thompson, The Song Of Lunch (Masterpiece)
Best Lead Actor in a Miniseries or Movie
Woody Harrelson, Game Change
Kevin Costner, Hatfields & McCoys
Bill Paxton, Hatfields & McCoys
Clive Owen, Hemingway & Gellhorn
Idris Elba, Luther
Benedict Cumberbatch, Sherlock: A Scandal In Belgravia
Best Supporting Actress in a Miniseries or Movie
Frances Conroy, American Horror Story
Jessica Lange, American Horror Story
Sarah Paulson, Game Change
Mare Winningham, Hatfields & McCoys
Judy Davis, Page Eight (Masterpiece)
ADVERTISEMENT - CONTINUE READING BELOW
Best Supporting Actor in a Miniseries or Movie
Denis O'Hare, American Horror Story
Ed Harris, Game Change
Tom Berenger, Hatfields & McCoys
David Strathairn, Hemingway & Gellhorn
Martin Freeman, Sherlock: A Scandal In Belgravia (Masterpiece)
Best Writing for a Comedy
Chris McKenna, Community
Lena Dunham, Girls
Louis C.K., Louie
Amy Poehler, Parks and Recreation
Michael Schur, Parks and Recreation
Best Writing for a Drama
Julian Fellowes, Downton Abbey
Alex Gansa, Gideon Raff, Howard Gordon, Homeland
Semi Chellas, Matthew Weiner, Mad Men
Andre and Maria Jacquemetton, Mad Men
Erin Levy, Matthew Weiner, Mad Men
SHARE THIS STORY Mad Men and American Horror Story lead nominations at this year's Emmy Awards" data-url="https://www.pep.ph/news/34961/mad-men-and-american-horror-story-lead-nominations-at-this-year39s-emmy-awards" data-desc="Mad Men and American Horror Story lead the nominations at this ye" data-image="https://contents.pep.ph/images2/news/9927c050c.jpg"> Mad Men and American Horror Story lead nominations at this year's Emmy Awards" data-url="https://www.pep.ph/news/34961/mad-men-and-american-horror-story-lead-nominations-at-this-year39s-emmy-awards" data-desc="Mad Men and American Horror Story lead the nominations at this ye" data-image="https://contents.pep.ph/images2/news/9927c050c.jpg"> Mad Men and American Horror Story lead nominations at this year's Emmy Awards" data-url="https://www.pep.ph/news/34961/mad-men-and-american-horror-story-lead-nominations-at-this-year39s-emmy-awards" data-desc="Mad Men and American Horror Story lead the nominations at this ye" data-image="https://contents.pep.ph/images2/news/9927c050c.jpg">
SHARE THIS STORY
Mad Men and American Horror Story lead nominations at this year's Emmy Awards" data-url="https://www.pep.ph/news/34961/mad-men-and-american-horror-story-lead-nominations-at-this-year39s-emmy-awards" data-desc="Mad Men and American Horror Story lead the nominations at this ye" data-image="https://contents.pep.ph/images2/news/9927c050c.jpg"> Mad Men and American Horror Story lead nominations at this year's Emmy Awards" data-url="https://www.pep.ph/news/34961/mad-men-and-american-horror-story-lead-nominations-at-this-year39s-emmy-awards" data-desc="Mad Men and American Horror Story lead the nominations at this ye" data-image="https://contents.pep.ph/images2/news/9927c050c.jpg"> Mad Men and American Horror Story lead nominations at this year's Emmy Awards" data-url="https://www.pep.ph/news/34961/mad-men-and-american-horror-story-lead-nominations-at-this-year39s-emmy-awards" data-desc="Mad Men and American Horror Story lead the nominations at this ye" data-image="https://contents.pep.ph/images2/news/9927c050c.jpg"> Mad Men and American Horror Story lead nominations at this year's Emmy Awards" data-url="https://www.pep.ph/news/34961/mad-men-and-american-horror-story-lead-nominations-at-this-year39s-emmy-awards" data-desc="Mad Men and American Horror Story lead the nominations at this ye" data-image="https://contents.pep.ph/images2/news/9927c050c.jpg">