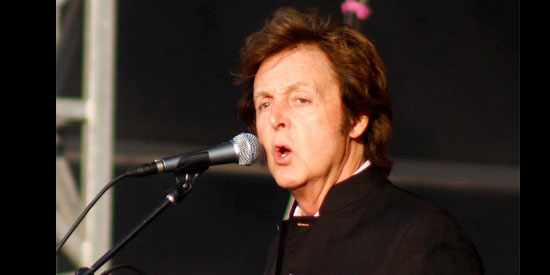 ---
Sir Paul McCartney closed the Opening Ceremony of the London Olympic Games last night, encouraging the crowd to sing along.
After the British band Arctic Monkeys covered "Come Together" by his famous band, Beatles, the singer ended the show with the aptly titled "The End" and "Hey Jude."
Sitting at a grand piano, his performance was watched by his daughter Stella McCartney, who has played a key part in designing Team Great Britain's costumes.
Other high points during the event included Harry Potter author J.K. Rowling reading from Peter Pan and David Beckham bringing the Olympic flame along the River Thames in a speedboat.
The show's artistic director Danny Boyle also drafted in Rowan "Mr Bean" Atkinson for a comic act on the keyboards, where he played the theme of the hit British movie Chariots of Fire.
England's Queen Elizabeth II declared the Games officially open, and boxer Muhammad Ali played a role in the Olympic flag-bearing ceremony.
David Beckham and rower Sir Steve Regrave, who won gold medals in five consecutive Games, carried the Olympic flame on the final leg of the 12,800-mile relay.
A group of young athletes was chosen to light the cauldron.
Broadcast to a global television audience estimated at one billion, Universal Music said an album of the ceremony soundtrack would be on sale "within moments" of the ceremony ending.
UK Grime MC Dizzee Rascal had earlier taken to the stage to perform in his local area, the East End of London.
He said: "It is exciting to be part of the London 2012 Olympic Games opening ceremony. It is a good time for the UK, and I am glad they asked me to perform one of my greatest tracks to represent the country."