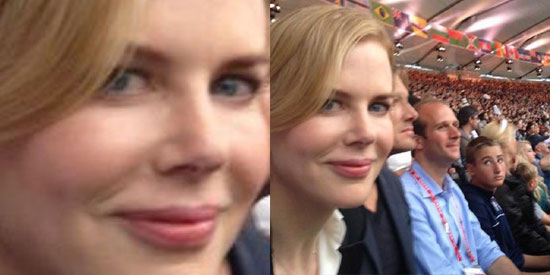 ---
Nicole Kidman attended the "amazing" London Olympics Opening Ceremony of July 27.
The Australian actress—who was accompanied by husband Keith Urban—couldn't contain her excitement at watching the spectacular show live from the Olympic stadium in Stratford, East London, and took to her Facebook page to share her enthusiasm.
Posting a picture of herself, she wrote: "At the Olympics with omega! Amazing!!"
Fans in the audience were also thrilled to spot the star, with one twitter user writing "forget about the athletes, Nicole Kidman is at the Olympics opening ceremony."
Other well known faces at Danny Boyle's spectacular show included performers Kenneth Branagh and Rowan "Mr. Bean" Atkinson.
Duchess Catherine and her husband Prince William also attended, along with a number of other royal family members, including Queen Elizabeth and Prince Philip.
Meanwhile, despite being famously snubbed from Team GB, a.k.a. Team Great Britain, for the Games, David Beckham still made a spectacular appearance.
Fireworks appeared on Tower Bridge before a powerboat appeared, which seemed to be driven by David as it passed along the River Thames to the Olympic Stadium in Stratford, East London.
On the boat with him were Jade Bailey (Arsenal and England Under 17 ladies footballer player) and the famous Olympic torch.