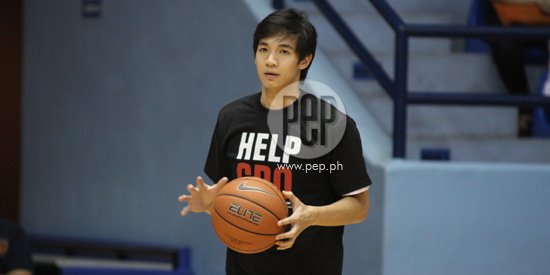 ---
Chris Tiu, 27 years old, has finally decided to file an application for the 2012 PBA Draft, where the rookies for the next basketball season will be selected.
Around 11 a.m. today, August 3, Chris tweeted on his official Twitter account @chris_tiu: "Hello PBA :)"
In a phone interview with PEP.ph (Philippine Entertainment Portal) before lunch today, Chris confirmed that he is joining the Philippine Basketball Association.
When asked what made him decide, finally, to join the professional ball league, Chris responded:
First, his passion and love for the game.
Second, his duty and responsibility to Pinoy basketball fans, his fans, and the youth.
And third, his mission for the Lord.
Along the lines of the third, he repeated the words of the late Pope John Paul II whom, he said, encouraged sports because "it is an integral opportunity to do apostolate, especially to the youth."
Chris also said, "Well, I was also able to receive a blessing from my family."
The Tiu family owns and/or controls many businesses, including: Sterling Bank of Asia, Discovery Suites in Ortigas, Discovery Shores in Boracay, Zhanzhou Stronghold Steel Works Limited of China, TKC Steel Corporation, iRemit, Chinky Chickens, and more.
Since Chris has always been expected to work in his family's enterprises, PEP asked how long he plans to play in the PBA.
"A few years, and then we'll see," the player-heartthrob said.
Chris revealed that most of the PBA teams have expressed their interest in hiring him.
"Halos lahat, except Air 21."
Which team would he like to play for?
"Kahit saan," Chris replied.
Chris played for the Ateneo Blue Eagles for four years until he graduated in 2008. During his last year there, the Blue Eagles won the championship of the University Athletic Association of the Philippines (UAAP).
Following this, he played for the national basketball team, Smart Gilas, for three years.
ADVERTISEMENT - CONTINUE READING BELOW
He has also been appearing as host of television shows.
In earlier interviews, he had said that he had a big decision to make: play pro ball, which is his passion; or go into business, which is his destiny.
For now, he is going with his passion, which he also calls his "duty and responsibility" and his "mission and apostolate."