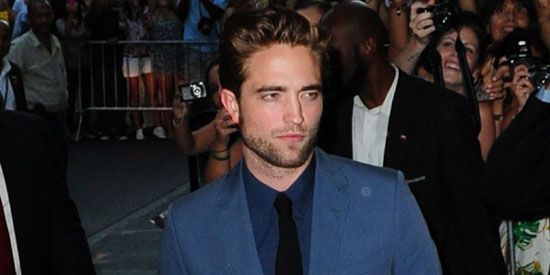 ---
Robert Pattinson became flustered when quizzed about Kristen Stewart on Good Morning America.
The 26-year-old actor diverted the question and mumbled incoherently when, live on the U.S. TV show, he was asked about his split from his girlfriend of four years Kristen Stewart, following the revelation that she had cheated on him.
Robert was asked, just after he had been given a box of his favorite cereal, Cinnamon Toast Crunch, what he wanted his fans to know about the situation in his personal life.
He stammered: "[My fans] seem pretty excited about... kind of whatever. Um, I'd like my fans to know that Cinnamon Toast Crunch is just 130 calories [a serving].
"Pretty much everything that comes out of my mouth is irrelevant."
The Hollywood heartthrob was gently probed about Kristen's affair with her married Snow White and the Huntsman director Rupert Sanders, 41, but Robert kept quiet on the subject.
TV host George Stephanopoulos commented: "You seem to be doing OK," to which the star replied, "Yeah, yeah."
The Twilight heartthrob did admit that while he is flattered by his obsessive fans, he needs a break from all the chaos fame brings.
Robert mused: "If you start getting used to it, then you become crazy. But, uh, it's nice. It's like being on the craziest theme park ride. Totally exciting, but eventually, at some point, you've got to have a break."
He added: "You go into it to do movies. I've never been interested in trying to sell my personal life. The reason why you go on to TV is to promote movies."