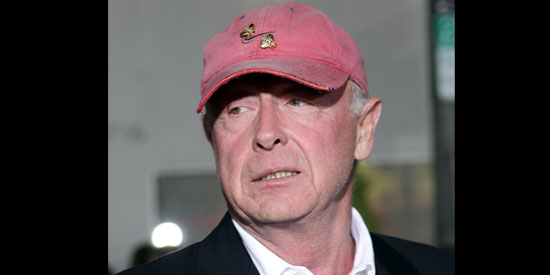 ---
Movie director Tony Scott jumped to his death from Vincent Thomas Bridge into the Los Angeles Harbor on Sunday (August 19, U.S. time) around 12.30 p.m.
However, he did not have brain cancer at all, according to Scott's family.
Tony's wife, Donna Scott, told investigators that the rumor that he had inoperable brain cancer is "absolutely false."
Although autopsy results have been deferred pending more tests, sources told website TMZ.com that there is no evidence of the disease.
His partner added that Top Gun director Tony did not have any severe medical issues that would have caused him to take his own life.
Los Angeles Assistant Chief Coroner Ed Winter stated the filmmaker's shocking passing "was reported as a suicide," and added that "there was a note found at [Tony's] office by friends" but did not disclose its contents.
On Sunday, Tony was seen parking his car on the cable-suspension bridge which connects the port district of San Pedro to Terminal Island before he jumped into the water at 12:30 local time.
His body was recovered from the harbor less than three hours later.
Katherine Rowe, the director's spokesperson, issued a statement saying: "I can confirm that Tony Scott has indeed passed away. The family asks that their privacy be respected at this time."
The 68-year-old British-born director was brother to Gladiator and Prometheus director Ridley Scott.
He had recently finished shooting the drama Out of the Furnace, starring Christian Bale.
Tony Scott's previous films include Beverly Hills Cop II, starring Eddie Murphy; Enemy of the State, starring Will Smith and Gene Hackman; Spy Game, starring Brad Pitt and Robert Redford; and the remake of The Taking of Pelham 1 2 3, starring Denzel Washington and John Travolta.
All these were box-office hits internationally.
He also served as executive producer on TV's The Good Wife.
ADVERTISEMENT - CONTINUE READING BELOW
In addition to his brother, Scott leaves behind his wife, Donna, and two young sons.