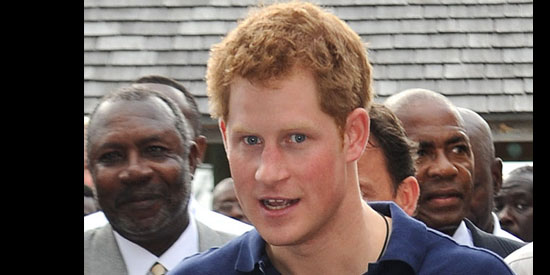 ---
Britain's Prince Harry was giving "random naked hugs" to partygoers in his Las Vegas hotel suite.
In August this year, the 27-year-old royal caused controversy when he was photographed without clothes after a game of "strip billiards."
Fellow reveller Carrie Reichert says the evening was "very funny," and the prince was the center of attention, given his extrovert behavior.
Carrie—who said she was one of 10 "very pretty" girls handpicked by Harry's pals to join him and his friends—said that when they entered the suite, "Harry was already undressed. It was just crazy. He looked actually delirious.
"He would just randomly walk up to you and hug you. He was just really friendly and there were just really random naked hugs. It was funny...
"He wasn't the only one naked. There were girls naked. The guys were half dressed.
"It was not like an orgy going on, it was just sexy naked.
"It was like almost a game. He was trying to get everybody to get naked—that was the whole point of him being naked.
"He was pressing his body up against the window and saying, 'Look at me, Vegas!' because he's got this huge window and you can see all of Vegas down the strip.
"Just pressing up against the window like, 'Look at me, Vegas, these are the royal jewels!'"
British-born Carrie—who saw Harry kissing the woman he was pictured hugging naked after their billiards game—later shared a "drunken fumble" with the prince.
ADVERTISEMENT - CONTINUE READING BELOW
She told The People newspaper: "We kissed, he was naked at the time and pretty open. It was a drunken fumble. It wasn't romantic, just fun.
"He grabbed my hand and we went back to his room. There was not much talking at that time, his clothes were off. I had a string bikini on. I had a party dress over that and it came off.
"We kissed for 15 to 20 minutes. I'm sure somebody stumbled in as there were people going in and out of rooms all the time. We kissed again and he said, 'That was great.'
"He told me I was beautiful and gorgeous, which was sweet. Then we kind of nonchalantly returned to the party and kept drinking."