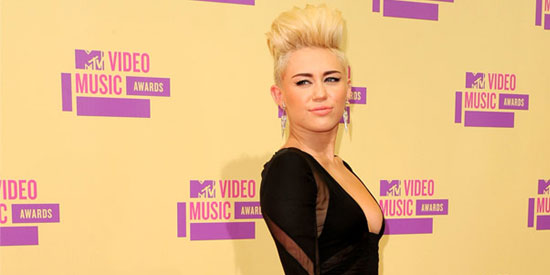 ---
Miley Cyrus is annoyed everyone only wants to talk to her about her new hairstyle.
The 19-year-old pop star loves her fresh bleached blonde crop, but is irritated the only thing anyone wants to ask her about at the moment is her radical image overhaul from Disney princess to grungy rock chick.
Speaking at the MTV Video Music Awards (VMAs) in Los Angeles last night (September 6), Miley told People.com: "It's so easy [to manage], you know. I love it. I feel really me and it's good.
"The only thing that's hard is it's the only thing people want to talk about. And it's like, 'Oh, I didn't recognize you!'"
Former Hannah Montana star Miley caused a stir at the VMAs when she arrived on the red carpet with her new locks styled in exactly the same way as "Blow Me (One Last Kiss)" singer Pink's trademark quiff.
The teen idol sarcastically tweeted after the ceremony: "Woahh 2 girls have blonde short hair! The whole world should go in to panic mode. Redickkkk."
The singer-and-actress got engaged to The Hunger Games hunk Liam Hemsworth in May, but says she has no intention of setting a date for the ceremony any time soon because she feels their relationship is so solid they don't need to be bound by law just yet.
The star explained: "I've got so much planning to do with the tours and getting the record out.
"I mean I'm really excited to obviously get married, but, I kind of already feel married, and I know we're forever. I don't really need the paper right now, so I'm just really trying to work."
ADVERTISEMENT - CONTINUE READING BELOW