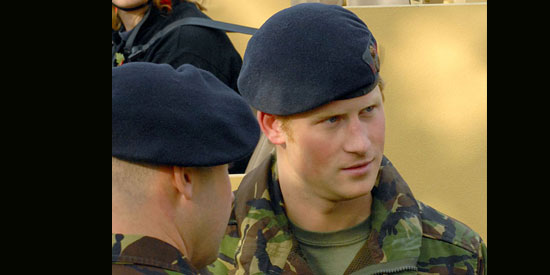 ---
Prince Harry will earn £200 a week danger money flying Apache helicopters in a war zone.
The third in line to the British throne arrived in Camp Bastion, Afghanistan, on Thursday night (September 6) where he will complete his second tour of duty.
He will receive the bonus—an Operational Allowance given to all soldiers serving in a war zone—as part of his pay package when his tour ends in January.
The extra money will be added to the Prince's £38,931 Captain's salary.
While he is in Afghanistan, Captain Wales, as he is known to other soldiers, will be operating as a co-pilot gunner on board an Apache helicopter, which he has recently qualified to pilot.
The prince is understood to be completing a two-day course in first aid, shooting, and roadside-bomb awareness before he is expected to start Apache-specific preparation in September 10, familiarizing himself with the helicopter's configurations for Afghanistan.
Speaking of the Prince's tour, another Apache pilot told the Daily Mail newspaper: "Each time we serve in Afghanistan, it is for four months—and no holidays in Britain, or Las Vegas, while we're there.
"We get a lot of stick from the soldiers on the ground because their tours last six months rather than four, but our jobs are more mentally demanding.
"Harry has the backing of everyone in the Army Air Corps. He performed very well in training and was too good in the Apache to be ordered to 'fly a desk'—what we call office duties."
ADVERTISEMENT - CONTINUE READING BELOW
The prince previously served in Afghanistan in late 2007 and early 2008, but his deployment lasted only 10 weeks, being cut short over fears for his safety after it was made public.