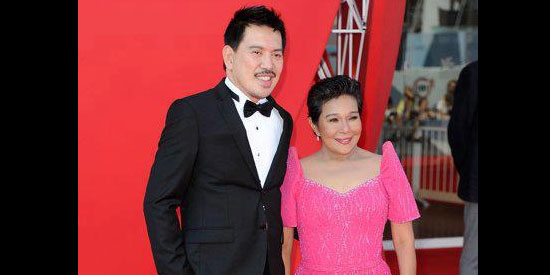 ---
Superstar Nora Aunor and celebrated indie film director Brillante Mendoza are the subjects of the latest congressional commendation.
The commendation is in connection with the success of their film, Thy Womb, at the recently-concluded 69th Venice International Film Festival.
House Resolution No. 2764 was filed in the House of Representatives by lone District Representative of Bacolod City, Anthony Rolando T. Golez, Jr.
The House Resolution was filed yesterday, September 10, at 9 a.m. during the third regular session of the Fifteenth Congress in Quezon City.
A copy of the document was secured and posted on the Nora Aunor for National Artist Facebook account.
The title of the Resolution reads: "A Resolution congratulating and commending Ms. Nora Aunor and Mr. Brillante Mendoza for their work in the Filipino film, Thy Womb, and winning several awards in the 69th Venice International Film Festival."
The Resolution states: "The tandem of Brillante Mendoza and Nora Aunor bagged recognition in the said film festival for their work in the film, Thy Womb.
"Brillante Mendoza and Nora Aunor attended the 69th Venice International Film Festival in Lido, Venice, Italy, from September 6 to September 8, 2012.
"As director of Thy Womb, Brillante Mendoza was given the La Navicella or Venezia Cinema Prize and the P. Nazareno Taddei Award Special Mention.
"While Nora Aunor was given the Bisato d'Oro Award, an acting award given by a jury of independent film critics in Italy, called the Premio Della Critica Indipendiente."
Congressman Rolando Golez, Jr. further cited the achievements of Mendoza and Aunor in the 69th Venice International Film Festival as a "motivation and inspiration to all Filipinos to excel in their chosen fields."
ADVERTISEMENT - CONTINUE READING BELOW
NATIONAL ARTIST BID. It was also Congressman Golez, Jr. who filed House Resolution No. 2317 last April 11, 2012, which sought to confer the title of National Artist to Aunor.
In citing the earlier resolution, Rep. Golez, Jr. enumerated the latest achievements of the Superstar.
"The recent recognition obtained by Nora Aunor from international critics is another great reason why she should be named as National Artist.
"I filed the resolution urging the President [Aquino] to name her National Artist because I find her life and career to be very Filipino, very inspiring.
"She rose from poverty to become the superstar.
"She experienced some troubles along the way, but now she is again on top of her game, giving all of us Filipinos inspiration and motivation."
Golez added, "Nora Aunor is one great Filipino true story; a roller coaster ride, full of struggles but in the end, the true grit and resilience of a Filipino fighter will still be able to pull through.
"I congratulate Brillante Mendoza for his superb work on Thy Womb and I wish him more power.
"I also hope that Ms. Nora Aunor will be named as National Artist soon."