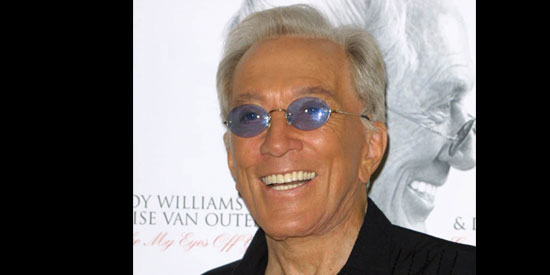 ---
Andy Williams has died.
The legendary "Moon River" singer passed away on Tuesday (September 25, U.S. time) after a year-long battle with bladder cancer.
He was 84.
Andy is survived by second wife Debbie and his three adult children—Robert, Noelle and Christian—whom he had with French-born dancer Claudine Longet.
The crooner had achieved 18 gold and three platinum albums in a career which spanned 75 years.
Andy had started his career with brothers Bob, Dick, and Don in the late '30s as the Williams Brothers quartet.
He went solo in 1952 and switched from a cabaret act to singing the latest pop hits, which won him high acclaim and kick started a new career.
Andy had a number of hits throughout the late '50s and '60s including "Can't Take My Eyes Off You," "Music to Watch Girls By," and "I Think I Love You."
But his most famous moment came singing "Moon River" from the film Breakfast at Tiffanys.
The song was never released as a single, but won an Oscar for Best Original Song in 1961.
The singer also started The Andy Williams Show on US network NBC in 1962, which ran until 1971, and then returned as an annual Christmas special.
He opened the Andy Williams Moon River Theater in Missouri in 1992.
It was on the stage of the theater he publicly announced he had bladder cancer in November 2011.