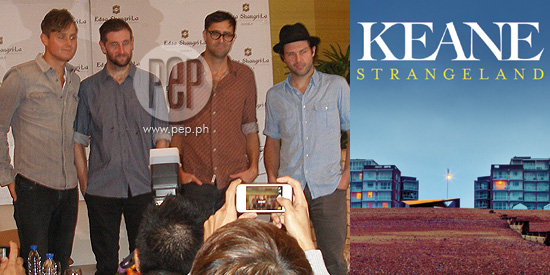 ---
British alternative rock band Keane will be staging a one-night concert tomorrow, October 2, at the SM Mall of Asia Arena.
They are set to perform some of their old songs from their first three albums, as well as new tracks from their latest album, Strangeland.
Keane is composed of Tom Chaplin on lead vocals, Tim Rice-Oxley on piano, Richard Hughes on drums, and recently-added member Jesse Quinn on bass guitar.
This rock band gained prominence following the release of their debut album, Hopes and Fears, in 2004.
Their first album became the best-selling British album of that year while the second one, Under the Iron Sea, also topped the album charts in the United Kingdom.
Keane was originally known for their piano-dominated sound which they veered away from in their third album, Perfect Symmetry.
This is the first time Kane has visited the Philippines and they said that they are very excited to play before the Manila crowd.
Frontman Tim said, "I guess we'll play a mixture of old songs and new songs.
"We enjoy playing the new record but we know that this is our first time here so this is the first time playing any song in the Philippines. So, I don't know, we'll mix it up."
When asked to define their music, Tim, who is the group's composer, said, "I feel like we're… the thing that always ties us together is our… you know, our songs tends to be very melodic.
"And they also tend to be very… like really emotionally honest and very much about us.
ADVERTISEMENT - CONTINUE READING BELOW
"We're not very interested in being cool or in fashion or, you know, playing any kind of games and trying to be popular.
"We always write about ourselves. And you know, I think it's difficult to do that, it's difficult to be very honest.
"I don't think many bands like to be that honest. So I think that's sets us apart from other band…"
The band named the Beatles, U2, Petshop Boys, REM, Queen, and Oasis as some of their musical influences.
How would they want to be remembered as a band?
Tim mused, "I think it's funny 'cause, again, your perception of… your ideas about being a band changes as time goes on.
"You know, when we started out, we wanted to be U2, the Beatles, we wanted to be huge and conquer the world.
"And you know, we got very lucky, we've had a lot of success, we've got all those shows.
"But then you start to realize that what really matters is making music that really connects to people and can change people's lives the way that music has changed our lives… and also to make music that we're really, really proud of.
"So I think… as long as we keep doing that, I think that's about as much as we can [do.]
"I think you gotta make sure that you really love what you're doing at the time rather than try and create some sort of epic legacy for the ages."
ADVERTISEMENT - CONTINUE READING BELOW