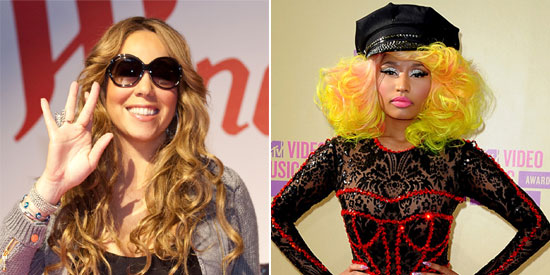 ---
Nicki Minaj threatened and swore at Mariah Carey during American Idol auditions on Tuesday (October 2).
Show bosses cancelled filming in Charlotte, North Carolina for the day after a huge blow up between the "Starships" singer and Mariah, where Nicki fumed she was sick of her co-star's "f*****g highness" and their fellow panelists Keith Urban and Randy Jackson were caught in the middle.
A source told TMZ: "[Nicki said to Mariah] 'I'm gonna knock you out'.
"Nicki added 'I told them, I'm not f*****g putting up with her f*****g highness over there."
Producers are now worried about how the pair will manage to work together for the rest of the season.
Mariah was said to be unhappy with Nicki joining American Idol because she was worried it would turn the reality TV program into a "freak show."


A source previously said: "Nicki isn't established enough to qualify as a judge.
"Mariah wants a panel of bright, inspirational, and constructive judges. Not some freak show!
"Mariah thinks Nicki will just be a distraction and it will all be about her and her outrageous behavior.
"Mariah will not be happy if Nicki joins the panel and she has let the producers know just how she feels!"