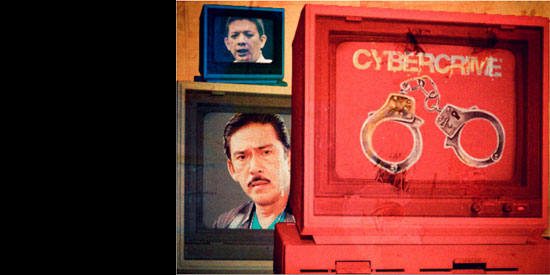 ---
The Republic Act No. 10175 or "The Cybercrime Prevention Act of 2012" is presently causing a furor among Netizens.
While most legislators say its main purpose is to prevent crimes in cyberspace—such as cybersex, child pornography, data and identity theft, and other forms of Internet scams—a huge number of the Internet users look at it as curtailing freedom of speech and expression.
Yes, to enforce such kind of law is inevitable given that some have been abusing their use of the web.
But there's an clamor to review and revise the libel clause that was added by Senator Tito Sotto in the newly-enacted law, which began taking effect last October 3.
Spot.ph, an affiliate website of PEP.ph (Philippine Entertainment Portal), enumerated 10 points that should make the Filipinos afraid of the Cybercrime Prevention Law.
1. It only wants to hear nice things. If you're a law-abiding citizen who happens to use blogs, Facebook, and Twitter to let the world know about your beef against, say, certain elected officials who are far from being geniuses—then you've been living a lie.
Under the Cybercrime Prevention Act, you're just like any other cybercriminal.
Your tweet about the barangay captain who loves San Miguel more than his job? That could be classified as libel, which is defined in the Revised Penal Code as "the public and malicious imputation of a crime, or of a vice or defect, real or imaginary, or any act, omission, condition, status, or circumstance tending to cause the dishonor, discredit, or contempt of a natural or juridical person..."
ADVERTISEMENT - CONTINUE READING BELOW
2. It champions the dead by asking the living to shut up. Under the Cybercrime Prevention Act, you would also be committing a crime if you "blacken the memory of one who is dead."
So, what happens if the person who died was a criminal who molested kids, backed a law that resulted in thousands of people being tortured, or killed journalists—and you're documenting his or her evil deeds for a history book?
Out of being nice, do you erase the "bad parts" of his or her life?
The law says, if you can't say anything good, then you better not say anything at all.
3. It's so "special" that it hurts. In an InterAksyon.com article, News5 resource person Atty. Mel Sta. Maria—who teachers at the Ateneo de Manila University School of Law—pointed out that the Cybercrime Prevention Act is tagged as a mala prohibita law.
Sta. Maria explained: "It is an accepted legal rule that offenses under special laws are considered mala prohibita as distinguished from mala in se.
"[For mala in se], there must be a criminal mind to be convicted.
"In murder, theft, robbery and other offenses punished by our Revised Penal Code, for example, intention to do wrong is an essential element.
"[For mala prohibita], there need not be a criminal mind.
"The mere perpetuation of the prohibited act is enough."
4. It's a time traveler. In an InterAksyon.com article written by Patrick Villavicencio, University of the Philippines College of Law Professor Atty. JJ Disini said that under the Cybercrime Prevention Act of 2012 the so-called "victims" and their lawyers "could argue in court that old libelous posts [that are] still live today can be charged with online libel."
ADVERTISEMENT - CONTINUE READING BELOW
The report further quoted Disini, who explained, "Kasi pwede nilang sabihin na by keeping it there today, you're still publishing it now.
"So if you're still publishing it after the law took effect, then you're liable for its publication today."
5. It's outdated. An InterAksyon.com article, citing Human Rights Watch (HRW) Asia, noted: "The Philippines' libel law, enacted during the American colonial period and intended mainly to stifle dissent, continues to consider the offense a criminal act.
"Media organizations contend the law on libel has most often been used by people in power to harass journalists and muzzle critical reportage."
6. It won't like you liking what it doesn't like. Those who play a part in unwittingly or willfully encouraging the spread of libelous content shall be charged for abetting libel.
That means the act of clicking the "Like" button of Facebook or retweeting posts on Twitter may be tagged as unlawful as well.
7. It's prudish. Under the Cybercrime Prevention Act, cybersex is a crime.
We agree that it is so—when it's a profit-oriented venture taking advantage of hapless individuals such as minors or those who have been directly or indirectly coerced into the seedy industry.
The law defines cybersex thus: "The willful engagement, maintenance, control, or operation, directly or indirectly, of any lascivious exhibition of sexual organs or sexual activity, with the aid of a computer system, for favor or consideration."
However, what if cybersex is done by two consenting adults? If a woman sends a picture of herself eating ice cream in a suggestive manner to her boyfriend, will she be stoned to death sent to jail if someone rats her out?
ADVERTISEMENT - CONTINUE READING BELOW
8. It shits on wit. In his InterAksyon opinion piece, Ramil Digal Gulle explained: "Interestingly, the Supreme Court of the Philippines has also ruled that even ironic, suggestive, or metaphorical language could be considered libelous.
"You don't have to directly call someone a liar and a thief to get sued for libel.
"It's enough to suggest it or state it sarcastically—as long as you do so in a public manner like posting on the Internet."
9. It won't play fair. In an InterAksyon.com article, Atty. Mel Sta. Maria pointed out: "Section 1 of Article III of the Bill of Rights of the 1987 Constitution provides that 'no person shall be deprived of life, liberty or property without due process of law, nor shall any person be denied the equal protection of the laws.'
"However, under Section 19 of the Cybercrime Prevention Act, 'when a computer data is prima facie found to be in violation of the provisions of this Act, the Department of Justice (DOJ) shall issue an order to restrict or block access to such computer.'"
10. It's got killer penalties. If you get nabbed for online libel, you may spend a maxiumum of 12 years in prison and be fined a maximum of ₱1,000,000.
On Wednesday, Aurora Representative Juan Edgardo "Sonny" Angara, one of the authors, stated in an interview that he is open to amendments.
In an article published on GMA News website, he said, "'Pag nagkamali siguro kailangan magpakumbaba ang mga lehislador at aminin na baka medyo... baka nagkamali ho kami diyan at baguhin."
ADVERTISEMENT - CONTINUE READING BELOW